MRC Immaturely Gloats That CNN's Lemon Is Being 'Demoted' To Mornings
Topic: Media Research Center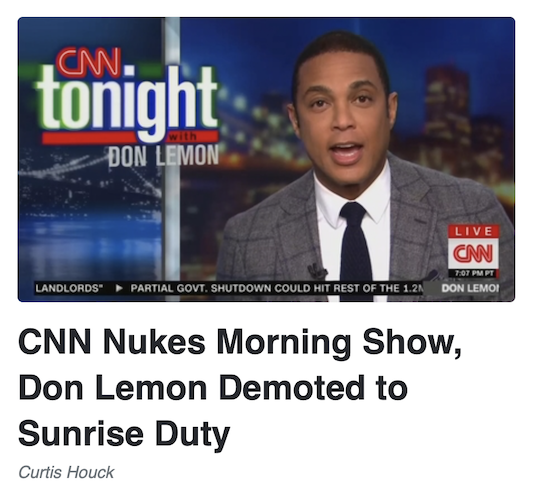 The immature glee the Media Research Center shows to CNN whenever something even mildly unpleasant happens to the network or one of its employees reared its ugly head again, this time in the form of a Sept. 15 post about some schedule-shuffling:
CNN announced Thursday morning that, after a nine-year run, their morning show New Day would be canceled this fall as new CNN boss Chris Licht and new parent company Discovery continue to remake the far-left, low-rated network and replaced with a yet-to-be-named newscast starring longtime CNNers Don Lemon and Poppy Harlow and chief White House correspondent Kaitlan Collins.

CNN said in a statement that current New Day co-hosts John Berman and Brianna Keilar would "continue to anchor New Day until the new program premieres" when they will thereafter "assume new roles at the network later this year."

The obvious highlight and takeaway from this new trio is Lemon, the far-left, deeply partisan evening host who had helmed anywhere from one to two hours of primetime starting in 2014. Originally borne as CNN Tonight, it became Don Lemon Tonight in May 2021.

Chronicled with diligence and humor (with a side of fact-checking) by our Nick Fondacaro for seven years, Lemon had established himself as a home for rampant partisanship, snarky commentaries ,yelling, and venom toward conservatives.
Partisanship and venom? Is Houck actually talking aboaut Fondacaro, who we've chronicled for years and found him to be humorous or factually diligent?Houck also aoffered no evidence to back up his assertion that both CNN and Lemon are "far-left."That's just name-caling to pander to the MRC's right-wing audience.
The headline of Houck's piece insisted that Lemon was being "demoted" by moving from prime time to mornings, and the MRC was deadly serious about keeping it, so it was pleased when its favorite right-wing media critic on Fox News embraced it, as documented in a Sept. 18 post by Kevin Tober:
With the news this week of low-rated leftist CNN host, Don Lemon's demotion to mornings, Fox News MediaBuzz host Howard Kurtz noted the glaring double standard in media coverage of the move. Kurtz pointed out how there was barely any mention of Lemon's divisive and hyper-partisan commentary nor mentions of how being moved from primetime to early mornings is a serious demotion for Lemon.

"CNN is throwing out its third-place New Day and launching a new morning show with Poppy Harlow, Kaitlin Collins, and Don Lemon. It's a big move by new CNN boss Chris Licht who once helped create Morning Joe," Kurtz reported.

[...]

The Fox anchor then pointed out that: "The press sure is giving him a pass. Maybe most of the writers agree with Lemon's anti-Trump stance" adding "can you imagine the reaction if one of Fox's most conservative opinion hosts was suddenly reinvented as a morning personality?"

If Sean Hannity or Tucker Carlson were moved to mornings, the media would make sure to mention every chance they got to say it was a demotion, and they would be right. The media refuse to say anything critical of Lemon because he is a Democrat Party [sic] propagandist like them.
Tober doesn't mention that Kurtz is never going to criticize Hannity or Carlson because, like them (and Tober), he's a right-wing propagandist as well as a fellow Fox News employee. Also, being a morning host does require a certain set of skills that nobody has ever accused Hannity or Carlson of having -- and neither Kurtz nor Tober (or Houck, for that matter) offer any evidence that Lemon does not have those skills.
Talking trash is not "media research." The MRC does not seem to understand that.
Posted by Terry K. at 9:19 PM EDT