Pre-Omicron, CNS (Mostly) Kept Downplaying COVID Threat
Topic: CNSNews.com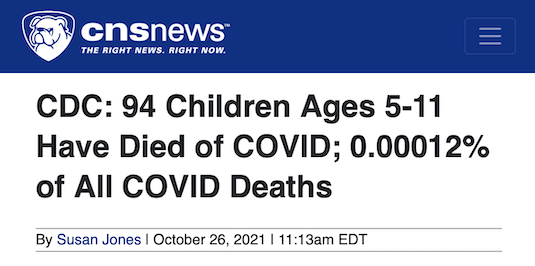 Before the rise of the Omicron variant, CNSNews.com -- as it likes to do -- labored to downplay the COVID pandemic ... with one exception.
An Oct. 11 commentary by Ryan McMaken of the libertarian Mises Institute insisted that the COVID pandemic is nowhere near as severe as the 1918 influenza outbreak, and those who claim otherwise are wannabe tyrants trying to "justify unprecedented increases in state power and violations of human rights": "And to what end? Apparently, to rob people of their livelihoods if they refuse to receive a vaccine. It's to attempt to make pariahs of anyone who makes health decisions of which the regime does not approve. It's to continue to justify 2020's ineffectual lockdowns. It's to justify government spending at levels unprecedented in peacetime. It's to deny that natural immunity provides meaningful resistance to the disease."
Susan Jones -- who had spent much of 2020 massaging COVID death numbers to make President Trump look good -- returned to the number-massinging business in an Oct. 26 article, presumably to deny the need for children to get vaccinated:
The U.S. Food and Drug Administration was meeting on Tuesday to consider authorizing Pfizer's COVID-19 vaccine for children ages 5 to 11 years old.

As part of the daylong presentation, Fiona Havers, a member of the CDC's COVID-19 Response Team, gave an overview of COVID-19 in children ages 5–11, noting that children are at least as likely as adults to be infected with SARS-CoV-2, but they are far less likely to die:
Jones pushed that claim again in an Oct. 20 article:
As soon as federal health authorities approve the Pfizer vaccine for young children -- a decision that hasn't been made yet -- the White House is ready to get shots in arms, President Biden's COVID team announced on Wednesday.

As of October 13, CDC counts 513 COVID-involved deaths among children 0-17 since the pandemic started. That's 0.071 percent of the total 712,930 people who have died of COVID complications since January 2020.

Nevertheless, the Biden administration made it clear this morning that the push is on to vaccinate young children:
Jones went on to complain that in a Biden administration news conference on the subject, "No one asked about myocarditis, a rare heart inflammation that has occurred "especially in male adolescents and young adults" after the mRNA COVID vaccination."
There was one place that CNS felt free to fearmonger about COVID: when "illegal aliens" have it. We've already documented how CNS has spread the false fear that undocumented immigrants coming across the southern border; that attitude continued ina Sept. 10 article by Melanie Arter complaining that "White House Press Secretary Jen Psaki couldn't explain Friday why the Biden administration is mandating COVID vaccinations for people who work but not for migrants crossing the southern border." An Oct. 13 article by Arter uncritically quoted Republican Sen. Lindsey Graham ranting that "illegal immigrants are getting preferential treatment, because people traveling into the U.S. from other countries must be vaccinated and have a negative COVID test, unless they cross the southern border."
Posted by Terry K. at 1:55 PM EST