Priest At CNS Issues Right-Wing Lecture Against Welfare
Topic: CNSNews.com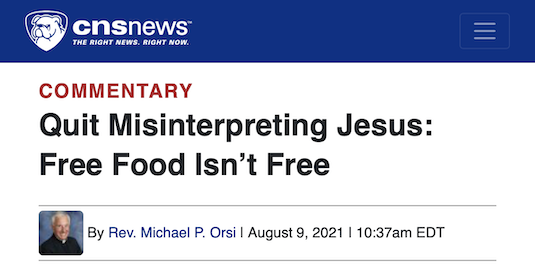 It's not often you get a right-wing lecture against welfare from a Catholic priest, but that's what Rev. Michael Orsi served up in a Aug. 9 CNSNews.com column headlined "Quit Misinterpreting Jesus: Free Food Isn't Free."
Orsi began by recounting Jesus' miracle of the loaves and fishes, then deciding that Jesus leaving the scene rather than letting the crowd crown him king had a political intent: "Was this the Lord's way of showing He didn't want people to become dependent on government?" Unlikely, and Orsi knows it, going on to add: "Forgive me for letting my political predilections carry me away. Sometimes I just can't help myself."
Of course, interpretation of Scripture should have nothing whatsoever to do with the reader's political predilections, but that didn't stop Orsi from sounding more like he was reciting Republican talking points instead of being a helpful interpreter. He decided to interpret Genesis as saying "We need to work, to develop ourselves, physically and intellectually, to gain a sense of virtue," then sounded even more like a Republican by rehashing how bad the Soviet Union was. Then came the lecture against welfare and even meaningful pandemic assistance from the government:
Now, to be sure, the lockdown hit plenty of people, and it hit them hard. Jobs were lost, businesses closed. And of course, there are those who would be incapable of supporting themselves, regardless of the pandemic. We have assistance programs for good reasons.

But there are plenty of other people who are perfectly capable of working — and who could readily find work at the many companies currently recruiting desperately — but who have gotten used to being taken care of by "Uncle Joe" in the White House.

Businesses all over the country are reporting unfilled positions. But people are responding to the perverse incentive to lay back on the stimulus checks. And so jobs go begging.

This has consequences. As it's often been said, "An idle mind is the devil's workshop." When you do nothing good, you're likely to do something bad.

And so we're seeing an increase in drug overdoses. People are dying as a direct result of these government checks and the excessive, unhealthy leisure that money has brought. With no meaningful way to spend their time, no sense that their survival and the welfare of their families depend on them, people are destroying themselves.

Nothing is free. There's always a price to pay.

Government handouts are not a blessing. At best, they are a temporary expedient to address a short-term emergency need. But as an ongoing way to operate a society, they don't work. And the proof of that has been seen everywhere. They've failed in Russia, in Cuba, in Venezuela. And the signs of failure are appearing here as well.
Meanwhile, in reality, Americans aren't lazy, and they have used the expanded unemployment benefits to hold out for better jobs with better pay. Orsi seems to think that Americans must accept whatever job is open, regardless of the pay, the danger (and exposure to coronavirus is very much a danger) or their suitability to the position.
Orsi further lectured that welfare is a failure "because they encourage us to act in that less-than-human way. And so we become less than human." He said nothing about the responsibility of employers to provide a safe, welcoming environment with pay that is commensurate with the risk involved.
Posted by Terry K. at 8:16 PM EDT