MRC Psaki-Bashing, Doocy-Fluffing Watch
Topic: Media Research Center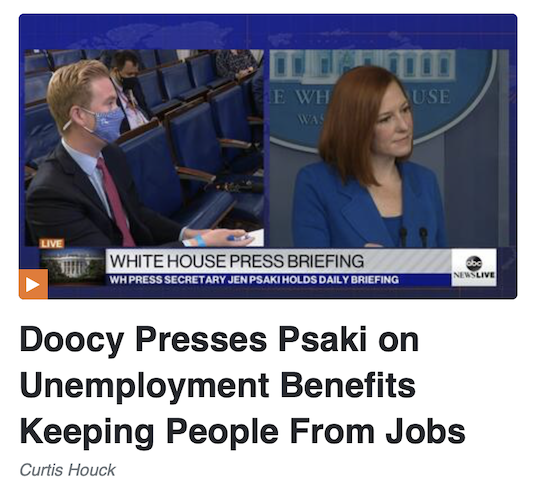 The Media Research Center's Curtis Houck clearly thinks that Jen Psaki's White House press briefings are nothing more than an show for his amusement -- an opinion we're pretty sure he never offered about the press brieefings of his old crush, Kayleigh McEnany. Thus, we're treated to things like a May 4 post headlined "The Psaki Show Is Back":
The White House press briefing returned on Tuesday following a week-long hiatus and, with plenty to talk about, Fox News's Kristin Fisher burst out of the gate and asked Press Secretary Jen Psaki whether teachers unions hold sway over CDC recommendations for school reopenings as well as what the White House thinks Americans should be allowed to do once vaccinated.

[...]

Though there hadn't been an episode of the Psaki show in a week, it was the same old, same old with Psaki providing next to nothing [.]
If there's nothing of interest but the "same old, same old," why does Houck continue writing these posts? Because they're not about the actual content -- his goal is to trash Psaki at every opportunity and gush over the hostile questioning of right-wing Fox News reporters like Fisher and Peter Doocy.
Perhaps Houck took his own advice, for he didn't cover briefings for the next few days. His next post was on May 10, which began with a shot at Fisher suggesting that she's a traitor to the right-wing ideological cause by leaving Fox News for CNN -- which Houck hates with a psychotic passion -- but his man-crush Doocy was on the job in her stead to push right-wing talking points:
With Kristin Fisher having left to join the evil empire, Fox News White House correspondent Peter Doocy soldiered on during Monday's briefing and found success in repeatedly questioning Press Secretary Jen Psaki over the fallout from Friday's jobs report and whether increased unemployment benefits are keeping people from wanting to rejoin the labor force.

Doocy pointed to the fact that "employment only rose about 266,000 jobs in April out 7.4 million or so jobs openings" before asking whether the Biden administration knows "that people are just choosing not to apply for jobs because the extra unemployment benefits are so good."

Psaki insisted Treasury Secretary Janet Yellen and the rest of Team Biden had "looked at the data" and they insist things were going swimmingly with unemployment having nothing to do with the increased welfare state.

Instead, she blamed a lack of affordable childcare, "the need" for more employers to pay workers "a livable, working wage," the number of vaccinations when the jobs numbers were put together, and yes, schools still being closed.

That would be stem from the preferences of the teachers unions, so if only that was a group the White House could have influence over and not the other way around.

Doocy came prepared for this kind of answer, so he shot back: "But Bank of America economists, who are cited in a Bloomberg story say, anybody making less than $32,000 a year is better off financially just taking unemployment so is the White House creating an incentive just to stay home?"

Psaki hit back that it's not the belief of "the majority of economists, internally and externally of the White House" and instead defending the increased payouts due to the "very difficult economic downturn."
Psaki's actually right, but the MRC is not paying Houck to say she's ever right about anything. His job is to push right-wing narratives regardless of their accuracy, bash Psaki and lionize Doocy.
Posted by Terry K. at 8:02 PM EDT