Falsehood-Prone WND Goes After Other Media Outlets For Fixing False Claims
Topic: WorldNetDaily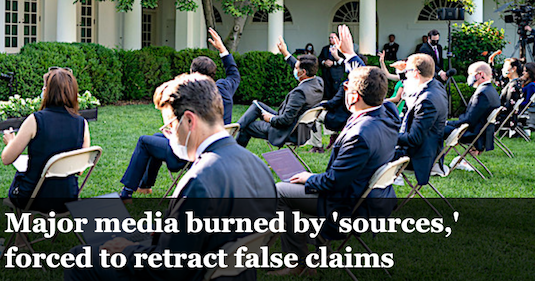 Bob Unruh declared in a May 3 WorldNetDaily article:
Several major legacy media organizations have been burned by their "sources," and have been forced to retract their claims that former New York mayor and Trump lawyer Rudy Giuliani was warned by the FBI about a "Russian disinformation" campaign against him.

[...]

When legacy media outlets New York Times, Washington Post and NBC reported on the raid, they said that the FBI had "warned him about being targeted by a Russian influence operation."

However, all three now have retracted that claim, according to Fox.

The Times said, "An earlier version of this article misstated whether Rudolph W. Giuliani received a formal warning from the F.B.I. about Russian disinformation. Mr. Giuliani did not receive such a so-called defensive briefing."

The Post's was similar, and NBC said, its original report "was based on a source familiar with the matter, but a second source now says the briefing was only prepared for Giuliani and not delivered to him, in part over concerns it might complicate the criminal investigation of Giuliani."

They all said their reporters wrote up the claims based on information provided by "anonymous sources."
Does Unruh need to be reminded of how many times WND has been burned by sources peddling false information, resulting in the need to make corrections? We can go back to 2008, in which it settled a defamation lawsuit for falsely accusing a Tennessee car dealer of selling drugs in an attempt to smear Al Gore, but earlier this year WND was appending corrections to some articles just a few months ago that peddled false claims about election fraud and coronavirus (though certainly not all of the bogus articles it published).
WND has been burned plenty of times -- or it already knew the claims were false but published them anyway -- yet it has the temerity to take other media outlets to task for correcting the factual record, something WND is generally loath to do.
Posted by Terry K. at 1:41 AM EDT