CNS Still Giving Alveda King Bogus 'Dr.' Title
Topic: CNSNews.com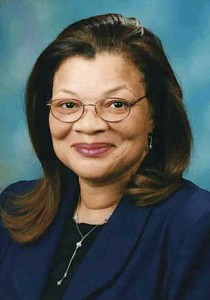 For years, CNSNews.com has insisted on gracing anti-abortion activist Alveda King with the "Dr." honorific even though her "doctorate" is an honorary one and not earned. It just can't seem to stop:
A June 5 article by Melanie Arter stated that "Dr. Martin Luther King Jr.'s niece, Dr. Alveda King, said Friday that the protests in honor of George Floyd, who was killed by police last month during an arrest in Minnesota, have "nothing really to do with skin color" as evidenced, she said, by the arrests of African-American police officers in Atlanta who were charged with using excessive force against two college students."
On June 16, Arter wrote that "Dr. Alveda King, Dr. Martin Luther King Jr.'s niece, told "Fox and Friends" on Monday that the police are looking at black people as perpetrators, not people 'a lot of times.'"
A June 18 article by managing editor Michael W. Chapman stated: "Dr. Alveda King, niece of the late Dr. Martin Luther King Jr., said several years ago that neither her grandfather nor her uncle 'embraced the homosexual agenda.'" for King's quote, Chapman linked to an article by the Catholic News Agency, which also called her "Dr."
Arter returned on June 19 to write that "Dr. Martin Luther King Jr.'s niece, Dr. Alveda King, told Fox Business's 'Mornings With Maria Bartiromo' on Friday that it's a dream come true for her to see Juneteenth acknowledged more broadly, but she hopes there's a Juneteenth for the unborn."
If CNS wants to be taken seriously as a news organization and not just an amplifier of pro-Trump and right-wing talking points, it needs to act accordingly. Gracing someone with a title they didn't earn because you like their politics doesn't cut it.
Posted by Terry K. at 1:52 AM EDT