MRC Parrots Anti-Omar Narrative -- Then Gets Mad When The Narrative Is Pointed Out
Topic: Media Research Center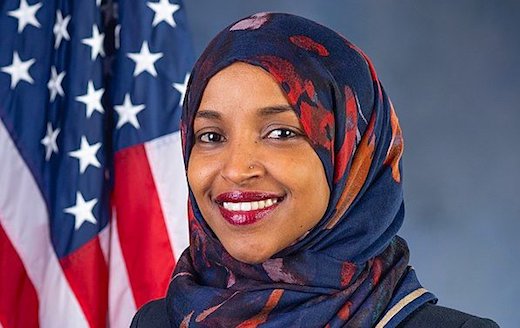 The Media Research Center has eagerly parroted the right-wing narrative that Rep. Ilhan Omar insulted America by allegedly describing 9/11 as "some people did something."
For instance, Kristine Marsh huffed that Omar "outrageously called the deadliest terrorist attack on American soil as simply the event where 'some people did something'" and that an interview with CBS' Stephen Colbert "intentionally didn't mention what she actually said." But in complaining that the interview focused on Fox News "daring to air these comments," Marsh intentionally didn't mention that one Fox News host -- outrageously, one might say -- questioned whether Omar was a real American.
Kyle Drennen called Omar's comments "offensive" and whined that some media outlets didn't give the right-wing narrative the coverage the MRC demanded in favor of other news, sarcastically complaining that "those stories were much more important that a Democratic politician dismissing the worst terrorist attack in American history."
Curtis Houck whined that the Omar's alleged characterization of 9/11 was "bizarre" and that the story was being framed as a "Fox News-fueled controversy" -- though it was largely driven by Fox News.
Mark Finkelstein was offended when MSNBC's Joe Scarborough said it was important for Omar to succeed as a member of Congress, arguing that she needed someone to "Ameri-splain" to her why "obfuscating the reality of 9/11" might be offensive, adding, "If Omar doesn't understand that by now, she richly deserves to fail."
But when anyone tried to counter the right-wing anti-Omar narrative -- or even point out the fact that it was a narrative -- the MRC cried foul.
Tim Graham was upset that a Washington Post fact-check put Omar's remarks in context -- and we know how much Graham hates that non-conservatives are given context (though he demands it when conservatives are selectively quoted). He was further upset that the fact-checker pointed out that PresidentGeorge W. Bush also vaguely described 9/11 in one speech, dismissing it as "weak connective thread."
Nicholas Fondacaro, went into rage mode when CNN's Brian Stelter pointed out the manufactured nature of the Omar controversy. After calling Omar's comments "disgusting," Fondacaro gratuitously insulted Stelter by calling him a "media dung-sweeper" with "few viewers." He then attacked Stelter for accurately pointing out that Omar's right-wing critics are acting in bad faith, then went into whataboutism mode:
Stelter paints these terrible phantom motives on his political opponents and then has the nerve to declare others were acting in bad faith. He described conservative media as the "right-wing rage machine", but never considered that Omar's comments were actually offensive to most Americans. Nope, to him, it was all part of some insidious plot.

Pretending to be an intellectual, Stelter opined about how "the big questions" needed to be asked: "where does the controversy come from? How was it created in the first place? Who created it? Who stands to benefit from it being created? And who stands to lose, who stands to suffer?"

That's actually some good advice. People should think about how CNN creates controversies, how CNN stand to benefit from it, and who CNN is trying to hurt.

We already know that CNN boss Jeff Zucker likes to cook up entertainment instead of actual news. We know the network likes to pretend the revolving door between the White House and the media came into existence with this administration, or at least wasn't used often. Pushing the collusion conspiracy was in their best interest because their ratings tanked (and still are) after Attorney General Barr announced no collusion was found. But Stelter defended their years of speculation. This is CNN.
Responding with rage at the idea of being called part of a "right-wing rage machine," while also hurling unprofessional, rage-filled insults in the process? This is the MRC.
Posted by Terry K. at 12:08 AM EDT
Updated: Friday, April 19, 2019 9:44 AM EDT