CNS Obsesses Over Cost of Mueller Probe
Topic: CNSNews.com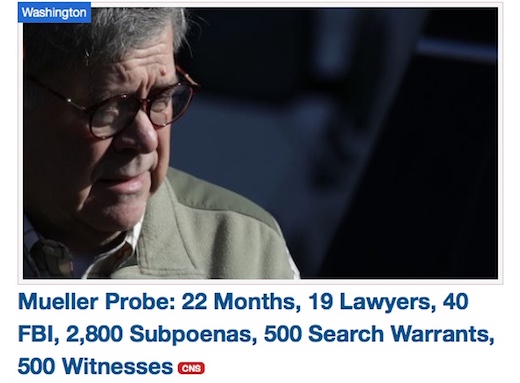 CNSNews.com loyally transcribed seemingly every time President Trump or one of his surrogates insisted the Trump campaign did not collude with Russia, so when Attorney General William Barr released a brief summary of Robert Mueller's special counsel lreport into such matters that appeared to have actually found no collusion, CNS couldn't want to trumpet that results.
A brief, anonymously written article carried the headline "Mueller Report: 'Investigation Did Not Establish That Trump Campaign Conspired or Coordinated With Russian Government'." Susan Jones served some misleading football-spiking from the president himself: "Trump: 'Total EXONERATION'; 'It's a Shame That Our Country Had to Go Through This'." (In fact, as an actual news outlet reported but Jones didn't, Trump was not exonerated on the obstruction question.) Melanie Arter chimed in with more Trump stenography.
Then Jones decided to obsess over the cost of the Mueller investigation in a March 25 piece headlined "Mueller Probe: 22 Months, 19 Lawyers, 40 FBI, 2,800 Subpoenas, 500 Search Warrants, 500 Witnesses." As the URL indicates, it originally carried the editorializing headline "You Paid For 22 Months, 19 Lawyers, 40 FBI, 2,800 Subpoenas, 500 Search Warrants, 500 Witnesses..."
In it, Jones huffs:
According to Barr, in the course of his 22-month probe, Mueller "employed 19 lawyers who were assisted by a team of approximately 40 FBI agents, intelligence forensic accountants, and other professional staff. The Special Counsel issued more than 2,800 subpoenas, executed nearly 500 search warrants, obtained more than 230 orders for communication records, issued almost 50 orders authorizing use of pen registers, made 13 requests to foreign governments for evidence, and interviewed approximately 500 witnesses.

Still unknown: How much did all of that cost us, the taxpayers?

President Trump tweeted in November 2018 that the "Joseph McCarthy style Witch Hunt" had wasted "more than $40,000,000," but the final tally has not been released.

The Office of Special Counsel has posted its direct expenditures through September 30, 2018, as follows:

[...]

That's a total of $9,394,300, by the reckoning of Mueller's office, with 6 months unaccounted for.

Judicial Watch in December sued the U.S. Department of Justice for records of costs incurred by the security detail for Special Counsel Robert Mueller.
Jones is, of course, suggesting that Mueller's probe was a waste of taxpayer money since it apparently didn't implicate Trump or his campaign in collusion.
We do not recall CNS or any other conservative media outlet being similarly upset over the $70 million cost of various investigations of President Clinton, including the Whitewater investigation that devolved into a probe of the president's sex life, even though they failed at finding anything more serious aghainst the president than lying about sex.
UPDATE: Jones didn't mention that the Mueller investigation could actually break even or turn a profit -- or at least recoup much of its cost -- given that it has resultedthe seizure of more than $28 million in assets from defendants including Paul Manafort and Michael Cohen.
Posted by Terry K. at 9:22 PM EDT
Updated: Tuesday, April 9, 2019 9:03 PM EDT