MRC Buries Steyer's Jewish Heritage To Justify Attacks On Him
Topic: Media Research Center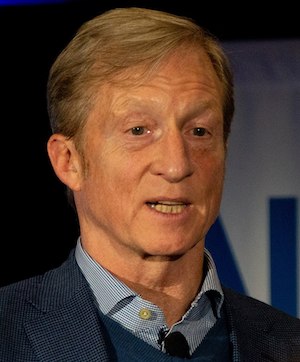 We've noted how the Media Research Center is offended that conservative criticism of liberals of Jewish heritage who support liberal causes with their money -- specifically, from Mouse Minority Kevin McCarthy -- might be considered anti-Semitic, and has sought to reassure conservatives that George Soros is a Jew you're allowed to hate without the threat of religious stigma.
Well, they're still going on about that. In its continuing attempt to brand Rep. Ilhan Omar as an anti-Semite for criticizing Israel, a March 11 post by Alex Christy wades into this again. He complained of MSNBC host Joe Scarborough:
Scarborough went into his usual list of purported anti-Semitic controversies involving Republicans. He again falsely accused Kevin McCarthy of warning about "Jew money" in the lead up to 2018 in attacks on George Soros, Tom Steyer, and Michael Bloomberg and went after Rep. Jim Jordan for replacing the 'S' in Steyer with a dollar sign, something "he's never done with a gentile." Tom Steyer is an Episcopalian.
Christy is not telling the whole truth about Steyer's religious heritage. While he is currently a practicing Episcopalian, according to Wikipedia, Steyer's father is Jewish, and Steyer's marriage waspresided over by a rabbi as well as an Episcopalian minister.
Is Christy saying that Steyer isn't a real Jew because he's only half-Jewish? That's a strange argument from a conservative organizaion that considers criticism of Ivanka Trump to be anti-Semitic because she married a Jew.
Posted by Terry K. at 9:40 AM EDT
Updated: Sunday, March 31, 2019 8:27 PM EDT