WND Obsesses Over Muslim Congresswoman For Being Muslim
Topic: WorldNetDaily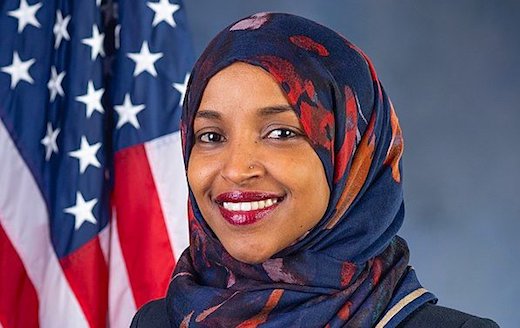 Rep. Ilhan Omar was alway going to be hated by WorldNetDaily for being a Muslim -- indeed, WND has been hating her since 2016, when she won state legislative race in Minnesota and Leo Hohmann ranted she was the face of "cultural jihad." But Omar's criticism of Jewish interests in politics, which came off as anti-Semitic, made that WND target on her back even bigger.
One of the things WND has decided to obsess about regarding Omar is the idea that she might have married her brother, a conspiracy theory to which WND has devoted no small amount of space:
Meanwhile, WND hasn't neglected good ol' Muslim-bashing in its attacks on Omar. James Zumwalt upped the hate in his March 13 column, claiming that Omar has gone through purportedly standard Muslim "indoctrination" to hate Jews:
Up until age 10, Omar enjoyed a pretty good life in Somalia – a Marxist-Leninist socialist state under the brutal dictator, Mohammad Siad Barre. Her family reaped rewards for supporting Barre and was only forced to flee in 1991 when he fell from power. Ironically, after her family supported an inhuman Somali dictator, Omar denies President Trump's humanity.

Strangely, the congressional representative from Minnesota, born in a Muslim country unaffected by any ill effects of Jewish influence, somehow immigrated to the U.S. with a severe case of anti-Semitism. Concerned Democrats, although we will not see it happen simply because they are not, should research how this really occurred.

Omar's anti-Semitism was not the result of any personal anti-Muslim experience suffered at the hands of Jews; it resulted from Islamic indoctrination demanding, like the Holocaust, their elimination. Anti-Semitism, taught to 70 generations of Muslims since Islam's founding, continues with Omar's. It is part of her Muslim DNA.

Pelosi needs to attend Friday prayers at a mosque. She would be hard-pressed to find one not promoting anti-Semitism. How many times have we heard imams in the U.S., confronted over making anti-Semitic statements, only to placate their critics of the moment?

Such indoctrination makes Omar's defense by Democratic Rep. Jan Schakowsky of Illinois, rationalizing she be given leeway due to her Somalia upbringing, absurd. As a Jew, Schakowsky knows Omar's anti-Semitism is an unabating hatred.
A March 14 column by Carole Hornsby Haynes attacked Omar and another Muslim in Congress, Rashida Tlaib, as un-American simply for being Muslim:
Did these two Muslims lie about upholding the Constitution? Can one be a devout Muslim and uphold the U.S. Constitution? Muslims are required to live under Shariah, which is deemed divine law and which does not permit them to live under any other legal system. Devout Muslims believe that the U.S. Constitution is just human law and is, therefore, inferior to the divine law of Shariah. How can a devout Muslim recite the Pledge of Allegiance – "one nation under God " – when a Muslim is a citizen of international Islam required to live under Allah?

Either these women are ignorant of the implication of their pledges, or they are purposely lying. However, this action of lying or dissimulation – taqiyah – is not only condoned, but recommended to Muslims in the Quran. Therefore, a Muslim can and will lie without any compunction, if it is necessary to protect or further Islam.
Haynes concluded by ranting that Omar's political success "most certainly embolden more Muslims to seek political office. Beware, Americans. We may be closer to a Shariah state than we realize.
UPDATE: WND columnist Mychal Massie joined in the hatefest as well, declaring that Omar and Tlaib "make the Obama woman and Hillary Clinton look like playful characters from 'Sesame Street,'" adding, "Never in the history of America have elected representatives been so openly anti-America. They prove that Muslims have infiltrated our country with one goal in mind, and that is to conquer America from within." He further ranted:
It doesn't matter if most Muslims are peace-loving. It matters that more than 300 million are committed to jihad and are satanically immutable.

America cannot afford to ignore the question of what happens as more and more Muslims like Omar and Tlaib get elected to every strata of government? What happens as more and more Muslims like Omar and Tlaib obtain powerful industry positions and are appointed to federal agencies and our courts? What happens as more Muslims like Omar and Tlaib become the heads of major universities and colleges? These questions must be examined.

[...]

Omar and Tlaib are proof that America has allowed this evil to metastasize, and if we're to survive as a nation, we must exercise our right to vote to ensure these types aren't elected. We must also exercise our constitutional right to have Omar and Tlaib removed from office.
Posted by Terry K. at 3:34 PM EDT
Updated: Tuesday, March 26, 2019 7:29 PM EDT