WND Finds An AOC Conspiracy Theory To Embrace
Topic: WorldNetDaily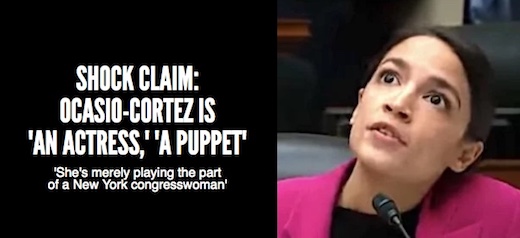 As we've seen at CNSNews.com, Democratic Rep. Alexandria Ocasio-Cortez lives rent-free in the heads of conservatives and right-wingers. That goes for WorldNetDaily as well, which found a conspiracy theory (of course) about AOC that it could embrace, promoting it in a March 11 article:
Freshman Rep. Alexandria Ocasio-Cortez, D-N.Y., is a "puppet congresswoman," and "the people controlling her are very dangerous."

It sounds like a crazy conspiracy theory, acknowledges actor, writer and political commentator Christopher Patrick Kohls.

But the first-hand evidence is there for anyone to see, he contends in a video produced under his Mr Reagan moniker.

"Alexandria Ocasio-Cortez is not really the congresswoman of New York's 14th Congressional District," he says provocatively as he opens the video. "She is essentially an actress. She's merely playing the part of a New York congresswoman."

Kohls explains that in 2017, a progressive group that formed in response to Trump's election called the Justice Democrats held "auditions" for potential congressional candidates to run on their platform.

As evidence, he runs a clip from a Justice Democrats video.

"Back in 2016, we put out a call for nominations," says the group's executive director, Alexandra Rojas. "We got over 10,000 nominations. Out of those 10,000 nominations, we found Alexandria."

[...]

Kohls comments: "A casting call. They had a casting call. They cast Alexandria Ocasio-Cortez in the role of congresswoman. And they did this so they could promote their own agenda.

As usual, WND can't be bothered to fact-check any of this hooey or reach out to AOC for a response.
That's a bad idea, since the theory that Ocasio-Cortez is a "puppet" for Justice Democrats collapses quickly when one discovers that she is also alleged to have been in control of the group in late 2017 and early 2018 and has since been de-listed from its leadership.
Of course, when has lack of truth ever stopped WND from embracing conspiracy theories before?
Posted by Terry K. at 12:59 AM EDT