WND Says Farah's Book Is Back In Print (Though It Never Really Was Out Of Print)
Topic: WorldNetDaily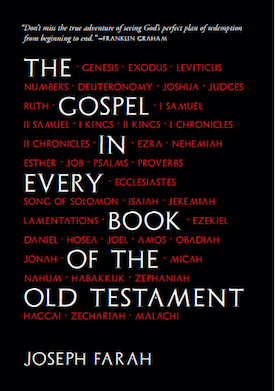 WorldNetDaily has the glorious announcement in a Jan. 13 article:
While some suggest its time for Christians to dump the Old Testament, a best-selling new book finds the gospel of salvation, restoration, mercy and grace "everywhere you look," says the author.

"The Gospel in Every Book of the Old Testament" by Joseph Farah is back in print after selling out nationwide before Christmas at the very moment at least one mega-pastor is calling for Christians to disengage from the Hebrew Scriptures – including even the Ten Commandments.
But as we pointed out when WND announced in November that the book was "SOLD OUT," it was still readily available at the outlets we checked, including Amazon and WND's own store (and of course, it's impossible for the Kindle version to be "sold out). It appears that WND -- following the apparent failure of its plan to raise as much as $400,000 to finance a massive first printing of the book despite not providing any evidence that the demand for Farah's book was that massive -- flipped the strategy (and acted financially responsible) by starting with a small print run it could afford and then print more as revenue from sales permitted.
There doesn't seem to be that much demand for the book in the first place -- certainly none that necessitated the 100,000-copy initial print run Farah and WND were originally planning. As of this writing, Amazon says the book is ranked No. 49,774, though it's ranked higher in very specific subcategories.
WND didn't explain the nearly two-month gap -- including the Christmas shopping season -- between the "SOLD OUT" announcement and the "back in print" announcement. Either there was never a shortage of the book in the first place, or the financial situation at WND is quite dire.
Posted by Terry K. at 1:18 AM EST