Nike Ad Prompts New Spasm of Kaepernick Derangement Syndrome At The MRC
Topic: Media Research Center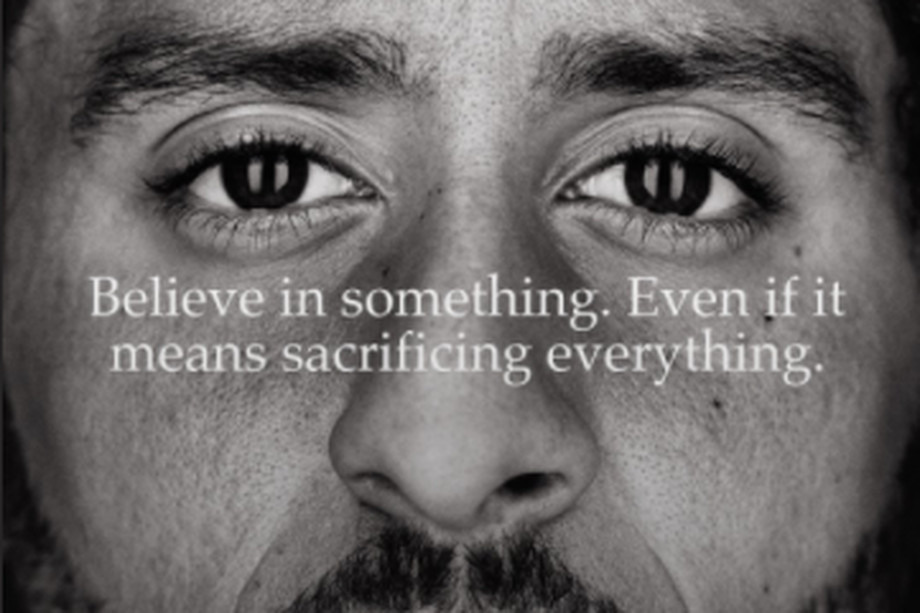 The Media Research Center predictably freaks out whenever anyone says something nice about Colin Kaepernick and the protests that cost him a place as an NFL player. Needless to say, the MRC went into full rage mode when Nike debuted an ad featuring Kaepernick.
The mysterious Jay Maxson unsubtly headlined his post "Nike -- From 'Just Do It' to 'F*** the Police'," despite the fact that he never quotes anyone from Nike (or Kaepernick, for that matter) using that term (apparently, Maxson was listening to a lot of gangsta rap when he wrote his post). Maxson sneered that Nike is "headquartered in the progressive cocoon of metropolitan Portland" and sneered further of Kaepernick: "Born of an African-American mother and raised by a white family, Kaepernick has been oppressed by multi-million dollar contracts while compiling a losing record as a starting NFL quarterback. Now he'll be further oppressed by millions more from the Nike contract. How generous of Nike to rescue Kaepernick from the unemployment lines too."
Matt Philbin, meanwhile, was ready to do some grave-dancing:
It was supposed to be an inspirational advertising tagline, not a self-fulfilling prophecy. "Believe in something. Even if it means sacrificing everything," is the phrase Nike used to introduce unemployed QB Colin Kaepernick as the face of its 30th anniversary "Just Do It" campaign.

It turns out "Get Woke, Go Broke" is a little closer to the mark. Morning Consult, the brand research firm, interviewed 8,000 Americans about Nike's Kaepernick campaign, and that "SWOOSHing" sound you hear is the shoemaker's brand deflating.

"Before the announcement, Nike had a net +69 favorable impression among consumers, it has now declined 34 points to +35 favorable," according to Morning Consult. Thirty-four points? You'd think that a company that produces wildly overpriced sneakers in Third World sweatshops wouldn't do anything to jeopardize its brand approval.
Strangely, Morning Consult has not said much about Nike's favorability since then. On Sept. 20, it reported that following a low of +28, the favorability had increased to +39 and was continuing to rise. It also reported that Nike's key demographics were more likely to buy its products after the ad appeared.
Nevertheless, Philbin was content with cheering that "short-term, a little bit of cosmic justice has been served.
Meanwhile, Nike's stock hit new highs just a couple weeks after the ad debuted, and the company's value increased by $6 billion. But Maxson and Philbin don't want to talk about that.
UPDATE: The MRC's Tim Graham and Brent Bozell gloated over how Nike lost $4 billion in value immediately after the ad appeared, prompting them to chortle, "This decision has backfired so badly it should be made a case study in The Stupidest Marketing Plan Ever Devised." The pair have been silent so far on how Nike regained that valuation and then some.
Posted by Terry K. at 11:27 AM EDT
Updated: Monday, October 22, 2018 2:22 PM EDT