MRC Serves Up Bogus, Shoddy 'Research' On Kavanaugh Coverage
Topic: Media Research Center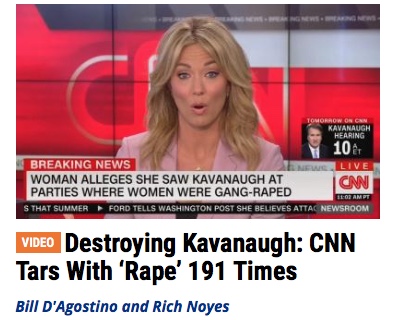 It is a day, so it must be time for another bit of bogus Media Research Center "research," courtesy of an Oct. 5 post by Bill D'Agostino and Rich Noyes:
During the past three weeks, Supreme Court nominee Brett Kavanaugh has received a deluge of news coverage accusing him of vile crimes, including attempted rape and even organizing gang rapes. Though these charges did not originate with the news media, the lack of satisfactory corroborating evidence should have caused ethical reporters to refrain from gratuitously repeating allegations that painted Kavanaugh in a monstrous light.

The media have shown no such restraint. Take CNN as a case in point. MRC analysts reviewed all of the network's Kavanaugh coverage during an 18-day period from September 16 through October 3 and found CNN's on-air anchors, reporters and contributors associated Kavanaugh with the word "rape" 191 times, or more than ten times per day. Note that this does not include the many other instances in which the word was used by guests, or by participants at live or replayed news events (such as the hearing on September 27). This count also excluded milder synonyms, such as "sexual assault."

[...]

Hour after hour, the likes of Alisyn Camerota (New Day), Anderson Cooper (Anderson Cooper 360), and Don Lemon (CNN Tonight) performed laborious readings of Ford's opening statement on their shows. These were supplemented with clips of Ford reading the statement herself, as well as a videotape in which CNN International correspondent Sarah Sidner summarized the document.

The following passage in particular was given considerable airtime: "I believed he was going to rape me. I tried to yell for help. When I did, Brett put his hand over my mouth to stop me from screaming."
In other words, the MRC is complaining that Ford's words were accurately quoted -- that CNN is guilty of reporting.
As usual, the MRC provides none of the raw data in the form of the quotes in full context. The fact that it won't do that shows that it knows it's attacking CNN for correctly quoting Ford.
So it must distract with a good ol' Clinton Equivocation:
Nearly 20 years ago, Juanita Broaddrick accused then-President Bill Clinton of raping her while he was the Attorney General of Arkansas — reportedly leaving her with a bloody lip and the words, "You'd better put some ice on that." In the 18 days which followed Broaddrick's story appearing in the Wall Street Journal (February 19, 1999), a Nexis search found CNN's on-air personalities (also excluding guests) only talked about Clinton as an alleged "rapist" 34 times, and then mostly on talk shows like CNN & Company (12 times) and Larry King Live (9 times). That's less than one-fifth the rate at which CNN today have tarred Brett Kavanaugh with the same devastating label.

The caution with which CNN approached Broaddrick's claims back then makes their handling of the Kavanaugh controversy appear all the more punishing.
First: Note the different search databases used: the MRC's own database for the Kavanaugh clips, Nexis for the Broaddrick clips. They're not equivalent, largely because it's unclear that CNN was transcribing its entire broadcast day for Nexis in 1999; some networks made only prime-time or branded shows available, meaning that it's likely CNN's run-of-the-mill news coverage that was not part of a branded program was never submitted to Nexis -- and, thus, making the MRC's data not necessarily an accurate reflection of what was actually broadcast on CNN.
So: we have another selectively edited piece of "media research" that ignores context to hide the fact that reporting is accurate, complete with an unreliable apples-to-oranges comparison to previous coverage and another refusal to make the raw data public.
This is the MRC.
Posted by Terry K. at 2:44 PM EDT