CNS Publishes Right-Wing Rabbi's Latest Loopy Rants
Topic: CNSNews.com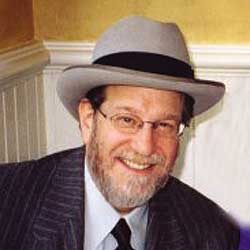 The Jewish Bradlee Dean has struck again, and CNSNews.com has him.
We've documented how loopy right-wing Rabbi Aryeh Spero has previously embraced equally loopy anti-Obama conspiracy theories a la Mr. Dean, the onetime WorldNetDaily columnist, failed evangelist (and current crazy guy ranting on the internet). Well, CNS insists on giving him a forum, so we've been treated to more Spero loopiness.
In his May 10 column, Spero is further emulating WND by going the Divine Donald route under the headline "President Trump Is Fulfilling Prophecies":
In a few moments ancient prophecies will be fulfilled and veritable truths realized when the United States moves its embassy to Israel's capital, Jerusalem. It will also be a day when we will remember the strength and courage of the man who made it happen: President Donald Trump.

[...]

Many good-willed American presidents pledged to move our embassy to Jerusalem, but out of fear of Arab riots and backlash, they allowed themselves to put off the decision for a later date. The United Nations and virtually all of the countries of the world were either afraid to relocate their embassies, or in their ultimate negation of the right for Israel to exist as a Jewish state, never even considered moving their embassy to Jerusalem. They were either afraid or were rejectionists. Many organizations spoke the proper words, but when push-came-to-shove, they chose to accept the delays and kick-the-can down the road. What makes President Trump different from all previous presidents is that beyond speaking positively about the move, he actually is doing it.

Trump is a man of action. And he is a man of conviction and fortitude who acts upon what he knows to be right. He is refreshingly fearless. He believes in Israel, indeed seems to love the country. He knows the centrality of Jerusalem in the scheme of Zion and is making truth happen. He understands symbolism and knows there is no greater sign of support and symbol of friendship than moving America's embassy to Israel's capital city of Jerusalem. He will not be cowed by threats of jihad.
Spero even pulls a full WND and likens Trump favorably to biblical hero King Cyrus.
Then, in his May 16 column, Spero actually defends waterboarding as necessary and totally not torture, with a little of that old-time Obama derangement:
Unlike what is happening in the Islamic and Palestinian world, we Americans do not torture for sheer barbaric enjoyment, or as a means of revenge, nor even as a way of frightening foes. We employ momentary and isolated acts of physical or psychological coercion for the exclusive purpose of eliciting information we are convinced will save lives, thousands of lives. These are important distinctions. Our enemy's torture incapacitates and causes excruciating pain for the remainder of that person's life. Water boarding is far from that. It is momentarily frightening, but does not fall within the historic category of torture.

Beyond our duty to prioritize on behalf of innocent life over momentary pain,self-defense is a biblical and moral duty, necessary for the sustainability of any society. Individuals as well as nations must be able to defend themselves from aggressors, from those pursuing them. Self-defense is a right. We calibrate our interrogation to a level we feel needed to secure that self-defense.

Former President Obama disapproved of the technique and often moralized to us about doing that which "reflects our values and who we are as a nation." He used to intone: "That's not who we are." Most often he meant we should sacrifice our basic needs and forfeit our rights to fulfill certain social and political agendas he considered more important than our right to self-protection, nationhood, or selfhood. Mr. Obama seemed to forget that protecting our women and children, as well as all innocent Americans, is one of our values and indeed constitutes "who we are."
Apparently, Spero didn't get the memo that the jury is still out on whether waterboarding suspects post-9/11 resulted in actionable intelligence, and a Senate investigation found that it did not.
Posted by Terry K. at 5:09 PM EDT