MRC's Gainor Admits Conservative Media Will Put Truth Over Reason to Back Trump
Topic: Media Research Center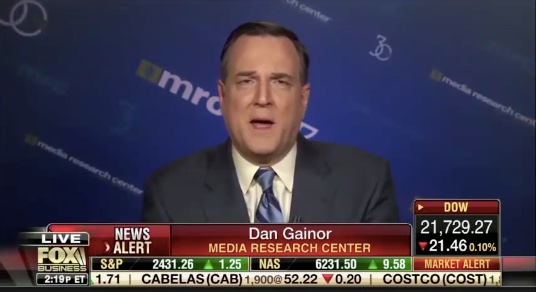 The Media Research Center's Aly Nielsen sums up an appearance by MRC VP and right-wing apparachik Dan Gainor on Fox Business:
According to MRC Vice President of Business and Culture Dan Gainor, Steve Bannon's White House exit will not "alienate the conservative media."

"Donald Trump is a smart guy. He can never go left enough to satisfy the media and the left," Gainor told Intelligence Report host Trish Regan, "So he's not going to alienate the conservative media. He will make nice in some way."
Gainor seems to be inadvertently admitting what we knew all along: the conservative media -- which includes all the MRC's various outlets, including "news" division CNSNews.com -- is putting loyalty to Trump over truth and reason. While Gainor seems to couch this in reflexive media-bashing in complaining about a hostile "left" media, he's also admitting that his conservative media will always give Trump the benefit of the doubt, and if Trump does something that appalls the rest of the nation, CNS and their ilk will contort themselves to excuse it.
Gainor demonstrates this further in his interview, as Nielsen writes:
Bannon, The Chief White House strategist, is leaving his position two days after talking to a liberal journalist at Soros-funded American Prospect.
"I don't understand why conservatives consistently feel like they're gonna -- they, they can go and out themselves to any sort of liberal outlet," Gainor said on the Aug. 18 Intelligence Report, "You know you're never going to get good treatment, you know the results' always going to be bad."

"This also emboldens conservative outlets to be more of a check and a balance on the people who are seen as more liberal on the--in the White House," Gainor concluded.
Note that Nielsen and Gainor don't blame Bannon for doing the interview; they blame a "liberal journalist" at a "Soros-funded" publication for running it. Talk about attacking the messenger.
Ah, but holding Bannon accountable for his own actions would have meant he alienated the MRC and the conservative media , and Gainor already said that will never happen. Gotta keep that Mercer money rolling in, after all.
Posted by Terry K. at 10:17 AM EDT