WND Getting Desperate for Travelers On Its Holy Land Trip
Topic: WorldNetDaily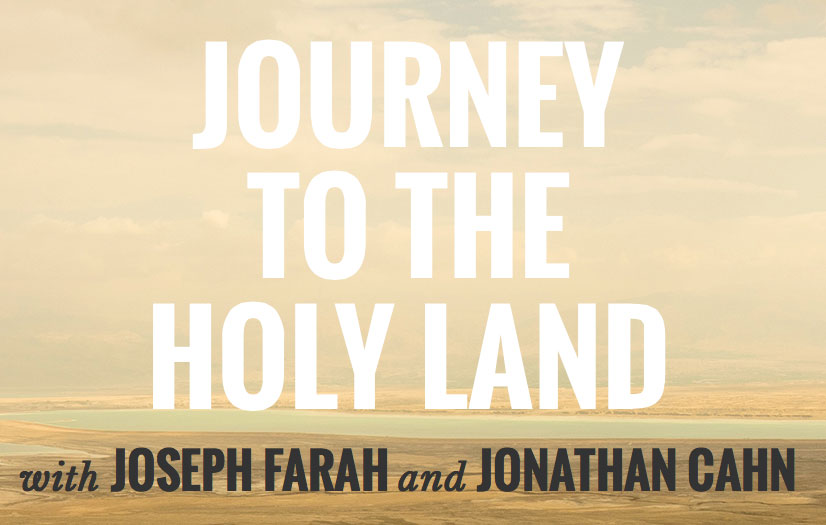 For months, WorldNetDaily has been heavily promoting a trip to the Holy Land in November, to be hosted by WND editor Joseph Farah and WND fave author, messianic rabbi and Obama-basher Jonathan Cahn. But in an apparent reflection of its financial problems, WND is having trouble getting enough people to sign up.
In a June 5 article, WND declared that "Registration and deposits must be completed by June 10," adding that "your opportunity is fading fast. The final deadline for the 2016 WND Israel Tour is almost here." The article also asserted, "The window of opportunity to join in this extraordinary quest is almost closed. Travelers need to register now or it will be gone for good. And an experience which even the first man on the moon called the highlight of his life will be lost to you forever."
Well, not so much. Just a week later, WND announced that the "final deadline" had been extended month, which it furiously spun by asserting there was so much demand it had no choice but to extend it:
The calls and emails were frantic and desperate. And they all had the same message – we need more time!

They got what they asked for. In response to a last minute surge of registrations, the deadline to sign up for the WND Israel Tour has been extended to July 9. More than 300 people have registered for the extraordinary trip – and registrations are still pouring in. But the window of opportunity can't be held open much longer.

"We've got hundreds signed up for participation in this spiritual trip-of-a-lifetime and still plenty of space to be part of it – but time is our enemy," said WND Founder and CEO Joseph Farah. "If you yearn to be with us, now's the time to register. We will not be able to guarantee your participation for much longer."

It's urgent anyone who wants to join this incredible pilgrimage go to the official website at WNDIsraelTour.com or call Coral Tours toll-free at 1-866-267-2511 and register right away. Registration and deposits must be completed by July 9.
An article on June 26 pushed the July 9 deadline, but a July 3 article made no mention of it, claiming vaguely that "The window of opportunity ... is closing quickly" and adding that "Cahn pleaded with believers not to wait, as reservations and openings may be limited."
A July 10 article -- a day after the previous deadline expired -- pushed the tour again without imposing a new deadline, repeating the exhortion that "Cahn pleaded with believers not to wait." A July 17 article was effectively a repeat, again with no deadline.
Nearly two months after the original "final deadline," WND was still promoting the tour. A July 31 article stated this:
Hundreds of people already have signed up, and while space remains open, organizers are encouraging those interested to sign up quickly, since airline seats are filling up, and when that happens, fares will increase, possibly substantially.
But if "hundreds of people already have signed up," there wouldn't need to be such a heavy push nearly two months after its initial deadline to add more. And we thought that in tours that include air travel, the price for the flight is negotiated beforehand as part of the total tour package and not subject to change afterwards barring unusual circumstances (of which there are currently none; prices for flights have been trending downward this summer).
An Aug. 7 article, however, pretty much eliminates all deadline urgency, beyond copying-and-pasting the claim that "Cahn pleaded with believers not to wait, as reservations and openings may be limited."
It seems that even WND is giving up on the possibility of a successfully filled package tour.
Posted by Terry K. at 12:53 AM EDT