NewsBusters' Shepherd Shows Why He Was Named Top Blogger At CPAC
Topic: NewsBusters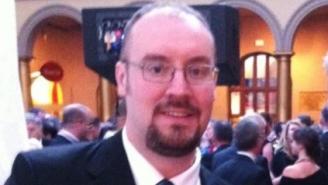 NewsBusters managing editor Ken Shepherd received an award for "Nonprofit Blogger of the Year" at this year's Conservative Political Action Conference. One apparent reason is that he dutifully promotes right-wing talking points.
We've documented Shepherd promoting dishonest conservative narratives on alleged discrimination against Christians, voter ID laws and a Houston anti-discrimination ordinance. He's also taken President Obama's words about vaccines out of context.
A Feb. 25 NewsBusters post further demonstrates the technique that won Shepherd his award. In it, he complains about MSNBC host Chris Matthews' criticism that John Boehner's invitation to Israeli Prime Minister Benjamin Netanyahu to speak before Congress two weeks before an Israeli election was "purely partisan":
As I've documented previously here at NewsBusters, Boehner's invitation to Netanyahu -- which noted that the invitation was on "behalf of the bipartisan leadership" of both houses of Congress -- was initially for him to speak on February 11.

The president was notified by Boehner about the February 11 invite AFTER it was sent to Netanyahu but prior to Netanyahu's response, which turned down February 11 but offered March 3 as an alternate date, which Boehner readily agreed to.

Again, Mr. Boehner noted bipartisan consensus in extending the invite to Prime Minister Netanyahu. Either that is true and Rep. Nancy Pelosi (D) and Sen. Harry Reid (D-Nev.) have some explaining to do, or Boehner is lying or at best misrepresenting the bipartisan "OK" he got from his colleagues. Rather than presenting this as nefarious partisan conspiracy, Matthews would do better to attempt to get to the bottom of that question.
But we could find no evidence Boehner consulted any Democratic congressional leaders before inviting Netanyahu. House Democratic Leader Nancy Pelosi has stated she was not consulted. Politico reports that "Boehner's office coordinated with Senate Majority Leader Mitch McConnell (R-Ky.) and Ron Dermer, the Israeli ambassador to the U.S." The response from Boehner quoted by Politico did not contradict Pelosi's claim.
Politco also reports that Boehner didn't even invite Pelosi to Netanyahu's speech, though he invited other Democratic officials.
So it appears Matthews has done his research. So why is Shepherd still giving Boehner the benefit of the doubt? Instead of pussyfooting around it, Shepherd should simply state what is apparently obvious: that Boehner lied when he portrayed Netanyahu's speech invitation as bipartisan.
But then, that's not the kind of truth in blogging that earns you the "Nonprofit Blogger of the Year" designation at CPAC.
Posted by Terry K. at 10:30 AM EST
Updated: Friday, February 27, 2015 10:55 AM EST