Serial Commandment Violator Farah Judges Obama's Christianity (Again)
Topic: WorldNetDaily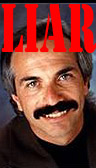 As he is wont to do, Joseph Farah devotes yet another WorldNetDaily column to insisting that President Obama isn't a real Christian:
While I can understand why some politicians won't fall into the obvious trap of judging the hearts and minds of others – especially a president running roughshod over the Constitution, making dangerous and reckless foreign policy decisions, ruling domestically like a dictator and destroying the economy, I am only too happy to comment on Obama's alleged Christian faith.

[...]

here are good reasons for Christians to wonder about Obama's claims to be a follower of Jesus – including his policies such as affirmation of same-sex marriage, abortion on demand for any reason or at any stage of development, including babies who survive outside the womb, the abject abandonment of persecuted Christians in the Middle East while offering "refugee" status to tens of thousands of Sunni Muslims, who are not experiencing religious persecution.

Some are fond of quoting Matthew 7, in which Jesus said, "Judge not, that ye be not judged." But that's not all Jesus said about judgment.

In the same chapter, He said believers would not be clueless in knowing who is a true believer and who is not: "Wherefore by their fruits ye shall know them. Not every one that saith unto me, Lord, Lord, shall enter into the kingdom of heaven; but he that doeth the will of my Father which is in heaven. Many will say to me in that day, Lord, Lord, have we not prophesied in thy name? and in thy name have cast out devils? and in thy name done many wonderful works? and then will I profess unto them, I never knew you: depart from me, ye that work iniquity."

Does Obama have such fruits of the faith to show?

I'm not judging, but I can't see any. Can you?
Farah judging the sincerity of Obama's faith is the height of hypocrisy. Not only does Farah repeatedly violate the Eighth Commandment by bearing false witness against Obama and others, he facilitates others in doing so -- indeed, the whole of WND can be seen as one massive, ongoing Eighth Commandment violation.
Farah is on record as appearing to be unduly proud of the fact that WND publishes misinformation -- something reinforced by his refusal to publicly repent for his dishonesty even as he demanded others do so during the "national day of prayer and fasting" he invented.
What fruits of the Christian faith does Farah show? We can't see any because his record of lies make it impossible.
Posted by Terry K. at 2:48 PM EST