WND's Farah Admits Gun-At-Airport Mistake, Tries To Blame It On Liberals Anyway
Topic: WorldNetDaily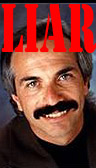 WorldNetDaily rather belatedly notes editor Joseph Farah's getting caught at at an airport with a loaded revolver -- not as a news article, even though it certainly is news, but as a column by Farah himself.
While Farah apologizes for his "dumb mistake," he plays the blame game anyway, because it's apparently the fault of liberals that he has to carry a gun in the first place:
I am licensed to carry a loaded firearm in multiple states and carry a concealed weapon virtually all of the time. I get death threats against me. Let me tell you about that.

Aug. 15, 2012, a gunman attempting to enter Family Research Council's Washington, D.C., headquarters shot a security guard, 46-year-old Leonardo Johnson, in the left arm. While injured, Johnson assisted others who wrestled the gunman to the ground until police arrived and placed the gunman under arrest.

During his FBI interview, the gunman, Floyd Corkins was asked how he chose his target. His response was "Southern Poverty Law, lists … uh … anti-gay groups. I found them online." Corkins appeared in court the following day and was charged with assault with intent to kill while armed and interstate transportation of a firearm and ammunition. An affidavit filed in the case stated that Corkins had told the guard "words to the effect of 'I don't like your politics.'"

When Corkins was arrested, investigators found 15 Chick-fil-A sandwiches in his backpack. He told the FBI he planned to kill as many people as he could at FRC and then smash the sandwiches in their faces. The head of Chick-fil-A had announced opposition to same-sex marriage.

A week later, Corkins was indicted on three charges: two charges in the District of Columbia, possession of a handgun during a violent crime and assault with intent to kill, and interstate transportation of a firearm and ammunition, a federal charge. In January 2013, Corkins pleaded guilty to crossing state lines with guns and ammunition, intent to kill while armed and committing an act of terrorism with the intent to kill. Corkins was sentenced to 25 years in prison on Sept. 19, 2013.
No mention, of course, of the unhinged right-wingers who shoot at law enforcement, an attitude Farah's WND encourages by fearmongering about the "militarization of police."
Farah also begrudgingly gives a little credit to the TSA agents who stopped him: "The TSA agents were very nice. They expressed concern about my making the flight. They called the Virginia police as is protocol. They took photos of the firearm and me. They gave me a summons. Then they sent me on my way."
That's a change from WND's standard hatred of the TSA. In announcing "e-mail hotline address for the reporting of first-hand abuse complaints at the hands of airport security personnel," Farah declared, "I personally canceled family travel plans this week as a result of widespread reports of groping, voyeurism and humiliation techniques. The American people will not be treated like cattle."
This being Farah, he can't stop himself from peddling at least one lie:
You might note who broke the story that Joseph Farah was detained at Dulles Airport Sunday for carrying a handgun – the Southern Poverty Law Center.

You might also note the Southern Poverty Law Center has repeatedly labeled my news organization a hate group – with even worse descriptions of me personally.
Actually, as the SPLC itself points out, the Washington Post first reported the airport incident (with a picture of Farah's piece); the SPLC simply connected the dots to confirm Farah's identity as the culprit. And the SPLC does not call WND a "hate group" -- its 2012 profile of WND contains no such description, though it notes that WND promotes hate groups.
(UPDATE: WND has also accused the TSA of "gate rape" by using now discontinued "nude-image scanners.")
Farah claimed he wrote this column because "I thought you deserved to know the rest of the story, as my inspiration Paul Harvey would say." But Farah identifies no factual error in the reporting of the SPLC or anyone else about the incident (even though the Post did, in fact, get Farah's age wrong). Farah's justification for carrying a gun is irrelevant to the incident, and it's hypocritical given his silence about right-wing extremists who target the police and his own expressed hatred of the TSA.
Posted by Terry K. at 3:07 PM EDT
Updated: Wednesday, June 25, 2014 4:44 PM EDT