MRC Bashes Connection Between Cop-Killers And Right-Wingers, Ignores Cop-Killer's Fondness For MRC
Topic: Media Research Center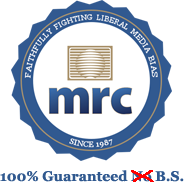 The Media Research Center is doing what it can to bash anyone who dares point out the fact that cop-killers Jerad and Amanda Miller had links to right-wing ideology:
A June 9 NewsBusters post by Jeffrey Meyer complains that Michael Eric Dyson tried to "connect the shooting in Las Vegas to conservative media and politicians."
a June 10 NewsBusters post by Laura Flint grumbled that MSNBC's Joy Reid said that the shootings proved the rise of "right-wing extremism." Flint groused: "MSNBC is leaning forward so heavily on this meme that it's falling over itself to paint blood on the hands of mainstream conservatives for the violence of mentally-disturbed extremists who have nothing to do with the conservative movement."
A June 10 MRC item by Kristine Marsh complained that a CNN writer cited the Southern Poverty Law Center -- which is somehow an accessory to terrorism because "when Floyd Lee Corkins tried to shoot up the conservative Family Research Council in 2012, he later admitted he targeted the conservative organization because the SPLC listed the FRC as a 'hate group' for it's 'anti-gay' stance on marriage"-- in "blaming the right for the deadly cop shootings in Las Vegas."Marsh continued, "It's pretty rich to talk down to conservative media for using hateful and negative language while on the network that employs Al 'White Interlopers' Sharpton, but again, nobody ever accused liberals of too much self-awareness."
Unmentioned by all of these MRC writers: Jerad Miller's Facebook page includes likes for MRC operations NewsBusters and CNSNews.com, as well as For America, the political operation run by MRC chief Brent Bozell.
That alone puts the lie to the MRC's claim that pointing out the Millers' link to right-wing media is inaccurate. Plus, it's utterly hypocritical given the MRC's past eagerness to link mass killers to liberal causes.
Posted by Terry K. at 3:03 PM EDT