AIM's Kincaid Ignores Anti-Gay Agenda Of Groups Aligning With Putin
Topic: Accuracy in Media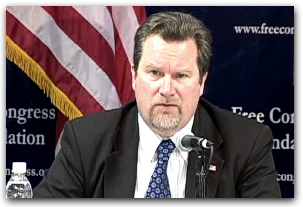 Cliff Kincaid writes in a Feb. 7 Accuracy in Media column:
The 2014 Winter Olympic Games in Sochi aren't the only platform for Russian President Vladimir Putin to assert himself on the international stage. He is reportedly planning to preside over a major Moscow conference in September sponsored by the World Congress of Families, a pro-family coalition that includes several high-profile American conservative organizations.

Putin, who is recently divorced and is said to have a mistress, will present himself as a defender of the Christian faith and Christian values, in contrast to the decline and decadence of the West. He is counting on conservatives in attendance to ignore the fact that he was a Soviet KGB officer and ran its successor, the FSB.
Weirdly, Kincaid is completely silent about the main reason these "pro-family" groups have latched onto Putin: the recently passed law in Russia banning alleged pro-gay "propaganda."
Right Wing Watch notes that "the WCF and the Religious Right groups it partners with are ardent promoters of anti-gay legislation worldwide, and they love Russia's anti-gay President Vladimir Putin."
Perhaps Kincaid's silence on the issue is because he actually supports Putin on this -- after all, he's been a longtime gay-basher who supports a proposed law in Uganda that would permit the execution of homosexuals.
In September, Kincaid huffed that a group headed by William Kristol "critical of Russia for passing legislation to protect children from homosexual propaganda." In a December column, Kincaid criticized the hosts of CNN's "Crossfire" for critizing the Russian anti-gay law and supporting President Obama's more to send gay athletes as part of a U.S. delegation to the Olympics in Sochi, Russia.
Perhaps Kincaid doesn't want to admit that homophobia is a key Putin value, lest it undermine his own homophobia.
UPDATE: Kincaid finally addresses the issue in a Feb. 11 column, in which defends Putin's crackdown on gay activity as "understandable" and laments the media's "gross exaggerations" about Russia's anti-gay law:
Media coverage of Russia during the Olympic Games has proven to be extremely inaccurate, from the gross exaggerations about the effects of Russia's anti-gay propaganda law, to NBC's claim in a report for the Olympics opening ceremony that Soviet communism was a "pivotal experiment"—and not a tragedy—in the country's history.

The topic of homosexual rights has dominated most of the coverage. Fareed Zakaria made the false claim on CNN that homosexuality has been "criminalized," or outlawed, in Russia while Megyn Kelly of Fox News insisted that Russian President Putin is somehow guilty of "homophobia" because he signed a law prohibiting the recruitment of children to the homosexual lifestyle.

By any objective standard, the Russian response to America's export of homosexuality under Obama is understandable, not objectionable, and it doesn't constitute "homophobia." They passed a law to keep homosexual propaganda from children. But this does not mean that Russia is on the right course and should be applauded by conservatives.

The narrow focus on gay rights, which is the intense concern of many in the U.S. media, misses the big picture—that Putin is posturing globally as a pro-family values champion willing to confront America's dying and decadent culture. Some conservatives are so disgusted by the course Obama has put America on that they seem willing to suspend their critical thinking abilities and embrace Putin as sincere.
And somehow, this is all Obama's fault:
Say what you will about Putin, but he has a vision for his country that is enticing to the Russians and draws a contrast with the West, which is suffering through a period of decline and decay under Obama. The year 2014 has been declared the "Year of Culture in Russia," and Putin says "It is intended to be a year of enlightenment, emphasis on our cultural roots, patriotism, values and ethics."

In contrast to Obama, who embraces and promotes every deviant and perverted lifestyle choice, Putin sounds very appealing. But appearances can be deceiving and American conservatives eager to embrace this kind of "conservatism" would be wise to stop and examine what is really going on in Russia. The evidence indicates it is a clever ruse to mask the emergence of a resurgent Russia, built on the Soviet "experiment."

[...]

It is difficult to see one area—except for gay rights—in which Obama is not doing Putin's bidding. Obama's homosexual agenda only makes Putin look stronger and more appealing on the world stage, even driving American conservatives into the arms of the would-be Russian dictator.
So, yeah, Kincaid is totally down with Putin's anti-gay crackdown, even if he has to hold his nose at the idea that it's the one thing that keeps him from completely rejecting Putin.
Posted by Terry K. at 1:16 PM EST
Updated: Tuesday, February 11, 2014 4:53 PM EST