The Rich, Pathetic Irony Of Joseph Farah Complaining About The Lies Of Others
Topic: WorldNetDaily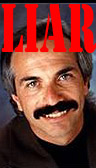 Joseph Farah devotes his Oct. 17 WorldNetDaily column to ranting about the alleged "lies and deceptions" made by President Obama in a post-shutdown speech. Farah counters these supposed lies with little more than spin and right-wing talking points.
Farah concludes his column by stating: "I fear for an America presided over by such a prolific liar – one who does it so effortlessly and so brazenly."
Farah is probably just afraid of having competition. He's more than demonstrated his ability to lie in the prolific, effortless and brazen manner he accuses Obama of doing -- though unlike Obama, Farah runs a "news" website where he presents his lies as the truth.
That makes Farah's lies far more pernicious that anything he has accused Obama of.
Posted by Terry K. at 2:57 PM EDT