NewsBusters' Sheffield Blames Media For Cory Booker's Win, Because Why Wouldn't He
Topic: NewsBusters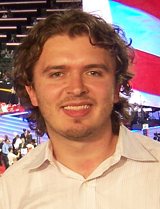 As we've detailed, Matthew Sheffield's efforts to present himself as a forward-thinking right-wing new-media guru is undermined by his kneejerk blaming of the "liberal media" for every conservative failure. Sheffield demonstrates that tendency again in an Oct. 16 NewsBusters post blaming Steve Lonegan's loss to Cory Booker in the New Jersey Senate race on, yes, the liberal media:
The Lonegan story is truly an inspiring one. Instead of consigning himself to a life spent dependent on the state and ruing his disability, he decided to make something of himself and became a successful businessman and political activist.

Unfortunately for him, however, the word has not gotten out. According to the Nexis news database, in the four and a half months that Lonegan has been running for Senate, newspapers covering the race have mentioned his disability just 59 times in the more than 1,000 articles they've written about the special election. According to Nexis, the New York Times has mentioned Lonegan's blindness once.

In contrast, the media's treatment of Lonegan's opponent, Democrat Cory Booker, has until recently, been nearly orgasmic. Since June of this year, the local newspapers have used the term "rock star" to describe Booker 42 times.
Needless to say, Sheffield makes no mention of a key Lonegan's sexually charged attack on Booker.
Sheffield also laments that "There also has not been any released reporting on claims that Booker does not actually live in the city he purports to lead" without mentioning that it was forwarded by the utterly discredited conspiracy theorist Joel Gilbert, best known for forwarding the completely false claims that President Obama's mother posed for nude photos and that Obama wears a ring that says "There is no god except Allah" in Arabic.
The reason the media didn't cover this story is because it lacks credibility. Too bad Sheffield is too blinded by his right-wing loyalites to recognize that fact.
Posted by Terry K. at 1:20 PM EDT