AIM Promotes Concussion Trutherism
Topic: Accuracy in Media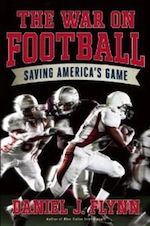 An Aug. 19 Accuracy in Media article by Malcolm Kline uncritically promotes a new book defending football and minimizing the impact of the injuries its players suffer.
The book, "The War on Football" by Daniel J. Flynn, appears to fulfill the right-wing agenda of its publisher, Regnery, by channeling Rush Limbaugh's lamenting that concussions aren't a real problem for football players and efforts to reduce the incidence of concussions will destroy the sport. Kline even throws his own two cents into the endorsement:
Moreover, as Flynn eloquently points out, the benefits of football far outweigh the drawbacks. "Players get knocked down and they either stand up or stay on the dirt," Flynn writes. "Teams lose."

"Then they choose—regroup to fight another day or fold. Perseverance makes the impossible possible. Players succeed by transcending pain rather than brooding in it."

The season I played on the team in high school—sophomore year—I had one pulled muscle. That's when one of the coaches taught me a trick I've used ever since. Don't respond to pain by doubling over but by straightening up. It works. Could that be a metaphor for life itself?
If concussions are such a minor problem, why did the NFL refuse to cooperate with a documentary produced by ESPN and public television on the effects of concussions in the league? (ESPN has since taken its name off the documentary due to arguments about editorial control.)
Kline is the head of AIM's offshoot, Accuracy in Academia. He apparently didn't try to find any, in the form of dissenting opinions on the concussion issue, before writing this column.
Posted by Terry K. at 11:34 PM EDT