Newsmax's Walsh Smears La Raza
Topic: Newsmax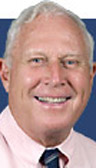 James Walsh writes in his Aug. 16 Newsmax column:
Back in July 2011, when Obama spoke to members of La Raza (a radical immigration advocacy group), he stated, "Now I know some people would want me to bypass Congress and change the laws on my own . . . the idea of doing on my own is very tempting. But that's not how the system works. That's not how democracy functions."
La Raza is hardly a "radical" group -- unless you consider civil rights for Hispanics "radical" (which, given his hostility toward immigrants, Walsh probably does). Further, its policy initiatives much more diverse than immigration, covering civil rights, education, and health.
Posted by Terry K. at 10:33 PM EDT