Newsmax's Walsh Fearmongers About Disease-Ridden Immigrants
Topic: Newsmax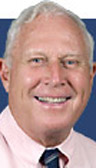 Immigrant-basher James Walsh is at it again in his Aug. 9 Newsmax column, warning against allegedly filthy illegal immigrants and the alleged "need for medical examinations of illegal aliens applying for 'legalization.'" He goes on to write:
A Kaiser Health News report in 2013 states that although illegal aliens are allegedly denied access to Medicaid, they are receiving medical benefits costing $2 billion a year, and illegal aliens have health problems. For instance, the Centers for Disease Control and Prevention (CDC) advise that the rate of tuberculosis (TB) in foreign-born persons in the United States, legally or illegally, is 11.5 times higher than in U.S.-born persons.

On July 22, 2013, The Washington Post reported on the need for TB tests for the students and staff at Robert E. Lee High School in Fairfax County, Virginia. Three cases of TB were reported during the last school year, and pupils and faculty may have been exposed.
Walsh is playing guilt-by-association here. The three cases of TB at the Fairfax County high school have never been publicly identified, so Walsh has no idea whether illegal immigrants are involved.
Further, while Walsh fearmongers about the rate of TB infection in "foreign-born persons," the number of TB cases in the U.S. has been declining for years, falling 40 percent since 2000 and declining last year to its lowest number since the 1950s.
Walsh also ignores the fact that while TB once rendered an immigrant "inadmissible" to the U.S., vaccines and antibiotics have largely neutralized the threat of TB infections.
Posted by Terry K. at 10:05 PM EDT