No, Jeff Roorda, There Is Not A 'Genocide On Police'
Topic: WorldNetDaily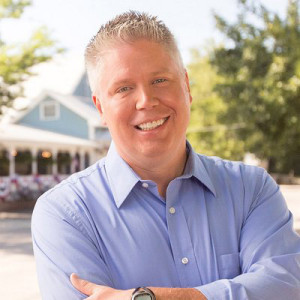 Jeff Roorda's main gig is as the business manager for the police union in St. Louis, a platform he has used to bash anyone who dares criticize the police, especially after the death of Michael Brown in the St. Louis suburb of Ferguson, Mo., and insisted that those progesting police brutality want "dead cops." He also lost a job as a police officer in another Missouri town for lying on a police report. He was also accused of assaulting a woman at a contentious public hearing on a civilian oversight board for St. Louis police (he won't be charged).
Roorda is also author of the newly released WorldNetDaily book "The War on Police" -- which appears to be an rewritten version of his self-published "Ferghanistan" --which denounces "a growing movement, fueled by a biased news media and Black Lives Matter, to demonize police across the country." This means WND has given him space to write op-eds. In September, for instance, Roorda attacked Colin Kaepernick's kneeling protest, ranting that "Kaepernick hates cops" and is "a special sort of treasonist" committing a "seditious act."
In a Nov. 8 WND column, Roorda begins by asking, "It's a fair question: Are we witnessing a war against police or an act of genocide against police?" Unsurprisingly, he answers yes:
Genocide, constabulicide, the great blue massacre … whatever term you choose to use, you should consider – strongly – the possibility that what we're witnessing now has escalated into something beyond just a war on police. If Dallas, Baton Rouge and Palm Springs didn't convince you of that, the eight police officers that have died in a recent eight-day span should. The ambush-style execution of police has become a common occurrence in 2016, and now the cowardly assassination of the two Des Moines area police officers on Nov. 2 culminated a bloody spree of anti-police violence that took the life of an average of one American hero in blue per day starting on Oct. 26.
In fact, as the Washington Post points out, the number of police officers killed in the line of duty has been steadily declining for 40 years, and it has hit a record low under thte Obama administration, despite the uptick this year.
Roorda complains that Black Lives Matter are falsely claiming that "the real genocide is being carried out against young black men by police," but he omits the fact that the "cowardly assassination of the two Des Moines area police officers" came at the hands of a white man who was kicked out of a high school football game for waving a Confederate flag and had a Trump sign in his yard.
Roorda also writes, "I was on the streets of Ferguson and I heard the seething words of hatred that came from the mouths of the antagonists who overthrew an American city." Again, he's hiding something: a Justice Department report found that that Ferguson was a place that used its police and courts as moneymaking ventures, where officers stopped and handcuffed people without probable cause, hurled racial slurs, used stun guns without provocation, and treated anyone as suspicious merely for questioning police tactics.
In other words, what happened in Ferguson did not happen unprovoked. We suspect Roorda doesn't cover that in his WND book.
Posted by Terry K. at 12:34 AM EST