MRC Notes Trump Backers Threatening Journalists, Doesn't Denounce It
Topic: Media Research Center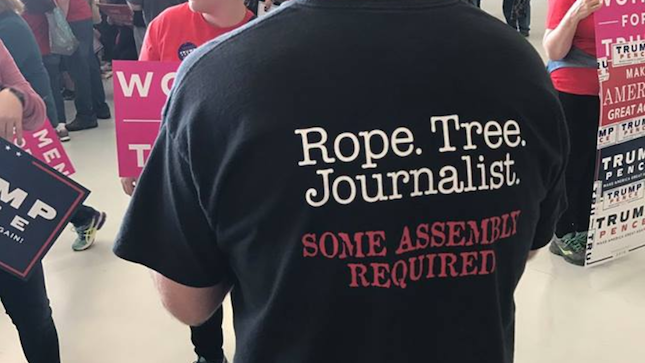 We've documented how the Media Research Center set the stage for Donald Trump's attacks on the media, but won't talk about the threats of violence against journalists from Trump supporters. Now the MRC has finally acknowleged it -- albeit in a rather lame manner.
The MRC's Kyle Drennen writes in a Nov. 3 post:
Appearing on Thursday's NBC Late Night With Seth Meyers, aired early Friday morning, ABC anchor George Stephanopoulos worried about Donald Trump making the liberal media an "enemy" in the presidential campaign, confessing that "it's hard to walk down the street right now" and warning that reporters need "security."

Host Seth Meyers observed: "...tensions are very high in this election on both sides....is it safe to say that you receive criticisms from both sides in your day to day?" Stephanopoulos complained: "It's hard to walk down the street right now....I have this one woman in my neighborhood....Every time I walk down the street she keys in on me, walks right up to my face and whispers, 'Disgusting'....Then a few days later, does the same thing....walks right up into my face, 'Bastard.'"

Meyers sympathized: "You know, there was a lot of talk about how the press covered Trump. But now, there's a lot of talk about how Trump is sort of framing the press as a villain." Stephanopoulos agreed: "The enemy, absolutely." Meyers fretted: "And so, for those of you in journalism right now, like, have you ever seen an attack like this?"

Stephanopoulos voiced concern for the safety of his colleagues: "No, I mean, he's singling people out from the crowd. And his – you know, I don't really go out into the rallies so much – but our reporters actually have to have security at his rallies because everybody gets so riled up and he riles them up as well."
And that's pretty much it. Drennen not only can't be bothered to denounce such threats, he's actgually suggesting that it's "liberal media bias" for even mention that it's happening -- as if Stephanopoulos deserves to be harrassed by random people for doing his job.
We're guessing that the MRC will completely ignore the T-shirt of a man at a Trump rally that stated "Rope. Tree. Journalist. Some assembly required."
(We've previously noted that the MRC's NewsBusters, as well as WorldNetDaily and Newsmax, used to run ads from the company that sold that T-shirt.)
Posted by Terry K. at 1:17 PM EST