WND Smears Area That Didn't Go For Trump As 'Third World Colony'
Topic: WorldNetDaily
WorldNetDaily has always been filled with bile for those who aren't as white, Christian and right-wing as them. This was encapsulated in a election-night tweet from the main WND account huffing, "If North Virginia wasn't a third world colony for America's failed attempt to be an empire (open borders too), Trump would run away with VA."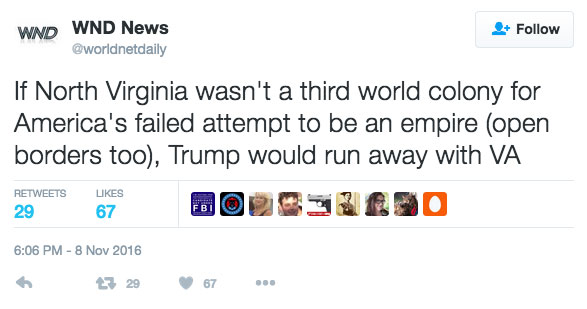 "North Virginia" is a reference to the Virginia suburbs of Washington, D.C. -- mainly Alexandria, Arlington, Fairfax County and Loudon County. And far from having "third world" conditions these areas are among the wealthiest in America. WND editor Joseph Farah very well knows this, because he lives in Fairfax County and enjoys some of that affluence.
Which makes this WND tweet about race. And it's wrong there too -- Northern Virginia is still majority white at 55%, with the minority population mostly consisting of 16% Hispanic, 11% black and 10% Asian.
So, WND appears to be saying that are too many brown and black people in Northern Virginia for Joseph Farah's comfort. It's also begrudging immigrants (the black and brown onesa chance, anyway) the opportunity to succeed in a region where's already so much success.
It's also worth noting that WND has its main offices in Washington, D.C. We're willing to bet that the people who clean that office aren't white -- they're likely Hispanic or another ethnic minority. What would they think about cleaning the office of an organization that scorns their very presence in the U.S.?
Posted by Terry K. at 8:38 PM EST