NewsBusters' Blumer Angry That People Noticed The Anti-Semitic Undertones in Trump Ad
Topic: NewsBusters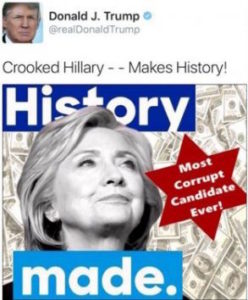 Angry Tom Blumer is angry that people are seeing anti-Semitic undertones in Donald Trump's final campaign ad. Blumer angrily writes at NewsBusters:
CNN's presentation would have viewers believe that the ad actually names the three people involved, and that it shows the three of them together in a single frame. It does neither.

Soros and Yellen appear in separate consecutive half-second clips at about the 22-second mark. Blankfein appears at the 1:14 mark, again very briefly. In all three cases, if you blink, chances are you'll miss them.

The anti-Semitism claim is rubbish.

The problem with [George] Soros isn't that he's Jewish; it's that he and his organizations lavishly fund groups which are working against the best interests of representative governments and everyday people throughout the world.

The problem with [Janet] Yellen and the Fed is that they have artificially propped up the U.S. economy with little in the way of genuine recovery to show for it, while encouraging the rest of the world to follow their failed policies.

The problem with Goldman Sachs is its close relationship with the power players in the Obama administration — a relationship so close that Obama's opponents have justifiably nicknamed him President Goldman Sachs. The administration's relationship with Goldman Sachs and other Wall Street firms likely explains why no executive has been criminally prosecuted or convicted — including execs at the the government's own Fannie Mae and Freddie Mac — as a result of the subprime mortgage and general mortgage-lending meltdowns of 2007-2008.

None of this has a flippin' thing to do with Soros, Yellen and [Lloyd] Blankfein being Jewish. And of course, many others who are part of the global establishment pictured throughout Trump's ad are not Jewish.

It takes a special kind of paranoia to count heads like far-left columnists have done, to find just three, and to scream "anti-Semitism." It's incredibly irresponsible for Jake Tapper to give Al Franken an open mic to make the charge without anyone from the Trump campaign to call him out for how ridiculous his claim is.
You know who doesn't think the anti-Semitism claim is "rubbish"? The Anti-Defamation League. "Whether intentional or not, the images and rhetoric in this ad touch on subjects that anti-Semites have used for ages' This needs to stop," said ADL CEO Jonathan Greenblatt.
You know who else doesn't think the anti-Semitism claim is rubbish? Actual anti-Semites. Media Matters documented how white-nationalist Trump supporters love the ad, with one site pointing out how ity "highlights the evil Jews Janet Yellen, Lloyd Blankfein and George Soros as being behind the corrupt global establishment destroying America."
In other words, it's not being noticed only in the "far-left fever swamps" as Blumer claims it is.
Blumer has apparently forgotten that the Trump campaign has been playing with these anti-Semitic undertones for a while; remember the image of a Star of David over a pile of money (lifted from a racist website) that Trump's cammpaign tweeted out?
Trump's supporters are so down with this stuff that they feel comfortable chanting "Jew-S-A!" at a reporter covering a Trump rally.
It takes a special kind of selective ignorance for Blumer to dismiss the claim out of hand because the claim was made only by "far-left columnists" (in fact, the ADL had tweeted out its criticism of the ad hours before Blumer's post was published).
Is Blumer really so ignorant as to pretend there is no history of the Trump campaign's history of toying with such imagery? Apparently so.
Posted by Terry K. at 9:51 PM EST