Farah Whines And Dissembles About Cruz's Eligibility ... Again
Topic: WorldNetDaily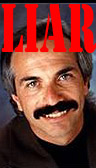 It would be so easy for Joseph Farah to explain in a simple and straightforward manner why he and his WorldNetDaily won't go after Ted Cruz's eligibility issues as aggressively as they did Barack Obama's Instead, Farah has decided to treat us to yet another day of dissembling and revisionism and whining.
And whine he does in his March 10 column -- that his endorsement of Cruz was criticized, that he was "caricatured as a 'conspiracy theorist,' a 'birther' and vilified as a racist hatemonger" for his anti-Obama birther crusade (hey, if the shoe fits...), and that he's being called out for being insufficiently birther when it comes to Cruz.
Farah does is usual manhood-measuring, making sure we know that he is "the man who founded the first independent online news agency, a lifelong journalist who had won awards for investigative reporting, my work as a foreign correspondent and achievements running daily newspapers in major metropolitan markets." Farah also engages in some counterfactual revisionism on his birther crusade:
In 2011, I published "Where's the Birth Certificate?" by Jerome Corsi, which instantly became the No. 1 best-selling book in the country. Within days, Obama dispatched aides to Hawaii to retrieve his "long-form birth certificate" – releasing an image that satisfied every single so-called "mainstream" media organization in the U.S. An Esquire magazine columnist wrote a column claiming falsely that I was withdrawing the book from the marketplace, setting off a frenzy by retailers to return tens of thousands of copies. We sued Esquire unsuccessfully for restraint of trade and defamation, but the process ended with split decision at the U.S. Court of Appeals level, one step below the Supreme Court.
Well, no. Farah doesn't name the chart on which Corsi's book was "the No. 1 best-selling book in the country" -- probably because it doesn't exist. If Wikipedia is to be believed, the book only made it to No. 6 on the New York Times' nonfiction bestseller list. Also, Obama released his long-form birth certificate three weeks before Corsi's book was released, so he cannot plausibly claim the book forced him into it.
(What did force Obama into it was Donald Trump going aggressively birther, something Farah and Corsi were advising him on behind the scenes. Funny how Farah is now refusing to either take credit for his behind-the-scenes work then or give Trump credit for going birther on both Obama and Cruz.)
Farah also conveniently fails to mention that the reason his lawsuit against Esquire failed is because the Esquire post was clearly satire -- something Farah himself admitted until it became inconvenient to do so.
Farah dissembles further:
Meanwhile, WND actually investigated the suspicious document Obama released, which only served to raise more questions than it answered. The only law enforcement investigation of the document found it to be fraudulent.
Actually, the only thing "fraudulent" was the investigation itself, sleazed into existence by Corsi and Joe Arpaio and incompetently run by Corsi and Mike Zullo, who (along with WND itself) deliberately ignored factual evidence that didn't conform to their birther conspiracy theories.
Then, bizarrely, Farah decides that he doesn't really know what a "natural born citizen" is -- despite his column carrying the headline "What is a 'natural born citizen?'" -- and that if he did, it doesn't matter now because he doesn't want to make the election about "eligibility." See how he punts:
As for me, I have studied the matter closely. But I do not pretend to be the last word. I have my opinions about the original intent of the founders. I have my opinions about what should be the standard definition. But I would be fooling myself if I thought anyone cared.

Anyway, the election was now upon us. I had a choice: I could make the election all about constitutional eligibility, or I could look at the candidates and determine for myself who would be the best president. Either way, my decision would not likely determine the outcome of the election.

I looked at all the records of all the candidates running and found Ted Cruz to be the one who, if elected, would most likely return our country to a foundation of liberty, the rule of law, equal justice and limited government. His entire life has been dedicated to advancing those principles.

If I were convinced he was not constitutionally eligible, I could not support him. But I am not the last word on such matters. That's for every voter to decide for himself or herself – since neither government, the courts, nor the dominant media culture have any interest in doing so.

Those sincerely convinced a candidate is constitutionally ineligible have a moral obligation not to support him. I respect that. As for me, I am not persuaded Cruz is ineligible. I am, however, convinced he is the best candidate running for president.
This is a massive load of hypocritical hooey. Contrast Farah's suddenly convenient reticence to define who's eligible to run for president with a 2012 column in which he asserted that eligibility "cannot be ignored" regarding Marco Rubio, who isn't eligible because his parents didn't become U.S. citizens "four years after Marco Rubio was born." He cites numerous legal precedents to claim that only a child born of two American citizens can be a "natural born citizen," adding that Obama is not "not eligible" and "never was" because "his father was a Kenyan student who never became a U.S. citizen. Therefore, he doesn't meet the test of eligibility."
But Cruz's father was not an American citizen at the time of his son's birth and didn't become one until 2005.Therefore, under the definition of "natural born citizen" Farah himself promulgated a few short years ago, Cruz is not eligible.
So why won't Farah come out and say that? Why has Farah abruptly decided that he is "not persuaded Cruz is ineligible" despite his own history of pushing an interpretation demonstrating the opposite?
Because he knows his Obama birther crusade was never about, as he now claims, prompting "an informed and intelligent national debate about the meaning of the constitutional phrase 'natural born citizen'" -- it was about trying to bring about the personal destruction of Obama. If he held Cruz to the same standard, he would be accused of sabotaging the man he wants to be president.
In short, he's abandoning birtherism because it no longer advances his political agenda, just like he compains that the media "dropped [him] like a hot potato" for pushing his birther views. What an utter hypocrite.
Posted by Terry K. at 1:11 AM EST