Ex-Newsmax Reporter Kessler Is Still A Trump Sycophant
Topic: Newsmax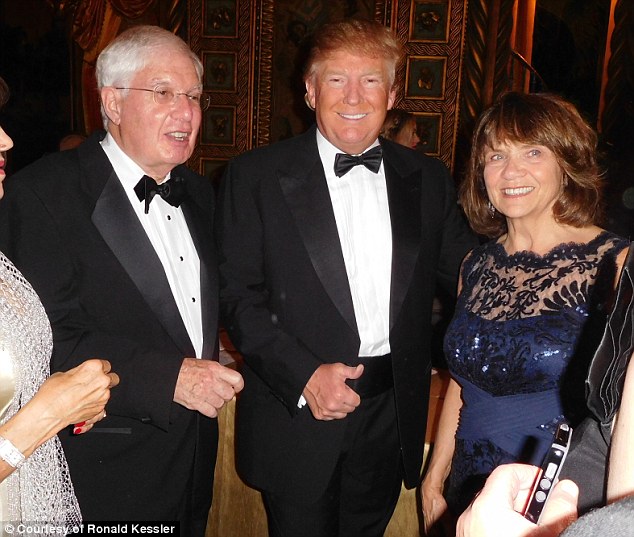 We documented how Ronald Kessler, then with Newsmax, was an enthustiastic promoter of Donald Trump's presidential ambitions during the 2012 presidential campaign -- while failing to disclose he was a good friend (or at least a sycophantic hanger-on) of Trump, having slobbered all over the guy in a 1999 book he wrote on Palm Beach's social scene.
Now Trump is actually running for president, and Kessler remains a loyal sycophant.
The headline of a piece Kessler wrote for the gossipy British tabloid the Daily Mail -- "Truffle and ricotta ravioli, surf & turf, Trump's own bubbly and Secret Service agents struggling to open bejeweled clutch purses to search for weapons: My New Year's Eve dinner (and other good times) with Donald Trump" -- is as overstuffed as the article itself, dripping with praise for Trump as he lovingly documents the "black-tie New Year's Eve party, which my wife Pamela Kessler and I attended at Mar-a-Lago, his club and Florida home in Palm Beach":
First came hors d'oeuvres and champagne on the terrace overlooking the pool, always heated to 78 degrees, like the second pool right on the ocean.

Cocktail shrimp, stone crab claws, cold lobster, oysters on the half shell, sushi, and caviar dished onto blini were among the offerings.

After that, the guests swanned over to the ballroom for dinner and dancing. No one would be hungry for dinner, which included truffle and ricotta ravioli and filet mignon and scallops. The bubbly: from Trump's own Charlottesville, Virginia vineyard.

If Donald had wanted to invite them, he could have attracted some of the biggest celebrities in the country to the bash. But the guests were club members and old friends.

Donald's family, including nine-year-old Barron, sat with him watching the rocking event band, Party on the Moon.
Kessler went on tell how "Like a proud maitre d', Donald went around greeting guests and posing for photos with his stunning wife Melania," repeat unsubstantiated allegations about Hillary Clinton's relationship with the Secret Service, quotes Trump emplpoyees about how awesome he is, then took a potshot at President Obama before fawning over Trump one more time:
In his book 'Dreams From My Father', Barack Obama admitted that as a community organizer, he got some asbestos removed from some pipes in one Chicago housing project but accomplished little else.

In contrast, Trump has amassed a fortune of $10 billion and employs 34,500 people. He didn't do that by being an idiot, a nut, or a bigot, some of the kinder terms that have been used to describe him.

Trump is running for president because he believes deeply in America. He symbolized that when he engaged in a protracted dispute with the town of Palm Beach over the American flag he erected on the front lawn of Mar-a-Lago on South Ocean Boulevard.
That's the kind of writing that ensures Kessler and his wife keep getting invited to Mar-a-Lago. Appropriate, since Kessler gave up being a serious reporter years ago.
(Photo: Ronald and Pamela Kessler with Trump, from the Daily Mail article.)
Posted by Terry K. at 5:49 PM EST