MRC Pretends Obama Is Giving Away The Internet
Topic: Media Research Center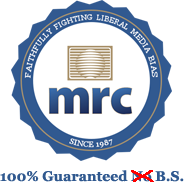 A March 17 Media Research Center item by Scott Whitlock is headlined "Networks Yawn as Obama Administration Gives Away the Internet." Whitlock touts how "Fox News extensively covered this development, but the network morning and evening shows ignored the monumental decision," concluding that "BC, NBC and CBS couldn't be bothered with wondering if giving away the internet is a good idea."
Perhaps that's because Obama is not, in fact, "giving away the internet."
As we noted when GOP operative Brad Blakeman went on a similar tear about it, the plan to transfer ICANN, the body that manages Internet names and addresses, to international control has been in the works since 1998, and it was always the plan that the U.S. would eventually relinquish control over ICANN.
In touting Fox News' coverage of the subject, Whitlock ignores the fact that Fox got it wrong by framing it as Obama "giving away the internet."Whitlock also invokes Mike Huckabee's criticism of Obama's alleged "giving away the Internet" without explaining what expertise, if any (and we're certainly not aware of any), that Huckabee has on the subject.
Posted by Terry K. at 3:46 PM EDT