No, Brad Blakeman, Obama Is Not Giving Away The Internet
Topic: Newsmax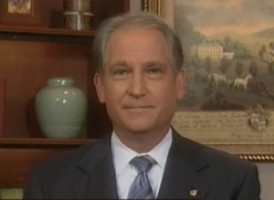 Newsmax gives space for Republican operative Brad Blakeman to rant:
Republican strategist Brad Blakeman is slamming plans by the U.S. government to open up the body that manages Internet names and addresses to the global Internet community.

Blakeman, who warned in a Newsmax column in 2010 that President Barack Obama was surrendering control of the Internet, told Newsmax TV's John Bachman and J.D. Hayworth on "America's Forum" Monday, that the administration's decision has been a long time coming.

"I gave a factual account of what the president was going to do and sure enough now in 2014, safely re-elected, our internationalist president is seeking to give our most important precious asset, the Internet, to basically international control. The United States developed it with taxpayer dollars at DARPA, which is at the Pentagon, as an open architecture networking. We didn't keep it for ourselves, we monetized it and were able to make countries a lot smarter, a lot freer and now the president seeks to be beholden. It does not make any sense. It's not in our interest," he said.

[...]

Asked whether he would agree with a foreign policy expert who over the weekend likened the move to the giveaway of the Panama Canal in the 1970s, Blakeman replied, "No, it is more dangerous than that. The Panama Canal is certainly important to us, but nowhere near important as the Internet, which touches every American household. Our military uses the Internet now, our other government agencies as well as our private sectors rely on it.

"We created it. Nobody has ever made a complaint about America not being free and open and giving access to those who wanted it either through the registration of domain names or the giving out of IP addresses."

Blakeman said it is just another example of Obama's strategy of appeasement.
In fact, the plan to transfer ICANN, the body that manages Internet names and addresses, to international control has been in the works since 1998, and it was always the plan that the U.S. would eventually relinquish control over ICANN.
Posted by Terry K. at 10:39 PM EDT