WND's Newest "Day of Prayer" Endorser: Mancow
Topic: WorldNetDaily
One reason to resist Joseph Farah's "National Day of Prayer and Fasting" is because Farah is an unrepentant liar who's pretending that there's no partisan motivation behind it, despite the fact that he has spent the past five years using his website to further the attempted personal destruction of Barack Obama.
Another reason is the rogue's gallery that has endorsed it.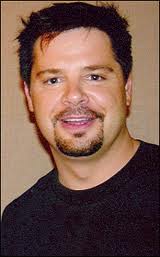 A May 13 WND article ticks off the chief endorsers: "Chuck Norris is on board. So is Michele Bachmann. Best-selling author Jonathan Cahn agrees. So does evangelist Greg Laurie. Historian and author David Barton likes the idea."
To recap:
To that illustrious list WND has added ... Mancow:
Matthew Erich "Mancow" Muller, better know as plain old Mancow, joined the growing list of celebrities and leaders who have endorsed the 9-11-13 National Day of Prayer and Fasting called for by WND's founder, Joseph Farah.
Mancow welcomed Farah on his program this week to talk about the event and said he agreed it might represent America's last hope – given the failure of political leaders to address the country's crises.
Ah, yes, Mancow. This guy:
Mancow's Morning Madhouse ran afoul with the Federal Communications Commission (FCC) indecency regulations in at least six separate incidents during 2000 and 2001. As a result, the FCC levied $42,000 in fines on Emmis Communications, the licensee of Mancow's then-home station WKQX-FM. In 2004, Emmis Communications signed a consent decree with the FCC sharply restricting indecent content and requiring the payment of $300,000 to the US government.
This is the guy WND is turning to endorse Farah's Day of Prayer? Really?
Posted by Terry K. at 12:54 AM EDT