WND Plays the Restroom Card to Fearmonger About Transgenders
Topic: WorldNetDaily
One of WorldNetDaily's favorite ways to fearmonger about transgenders is to raise the specter of men using women's locker rooms -- which, of course, ignores the fact that the "man" in question is in all likelihood self-identifying as a female, dressing as a female and may be even be taking hormone treatments as part of his gender transition.
And that's what WND does in an unbylined May 23 article in full transgender freak-out mode:
On orders from Barack Obama's Department of Justice, officials with the University of Arkansas at Fort Smith have given permission for a 38-year-old man to use the women's restrooms on campus.
In its usual style, WND doesn't tell the full story. As the Arkansas Times reports, the person in question, Jennifer Braly, has had her name and gender changed on legal documents and is taking hormone treatments. WND notes only that Braly is "living as a female," leaving a mention about hormone treatments until the final paragraph of the 28-paragraph article.
The Times also ignores the fact that the school abruptly forbade Braly from giving lectures on her transgender experience without explanation.
The article relies mostly on a biased report from the right-wing group Campus Reform, quoting also from Braly's website raising money for sex-reassignment surgery.
And if the overall tone of the story isn't sufficiently fearmongering, it's illustrated not with a photo of Braly but what appears to be a scene from the film "Psycho":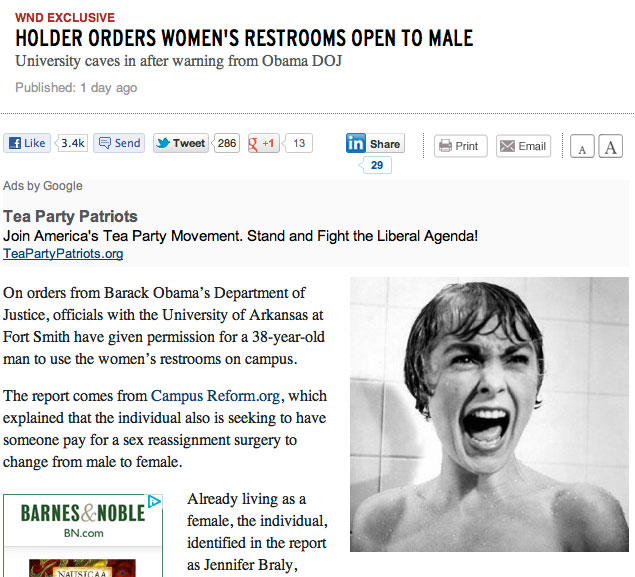 WND played the "co-ed shower" anti-transgender card in January by
illustrating it
with a shot from "Ferris Bueller's DayOff."
Posted by Terry K. at 9:27 AM EDT