WND Creates A Cover Controversy
Topic: WorldNetDaily
A few weeks back, WorldNetDaily created something called WorldNetWeekly -- WND's usual content repackaged in magazine form. Not a real one, though; it's all on computer, delivered electronically. For this repurposing of free content, WND charges $6.99 an issue or $49.95 for an annual subscription.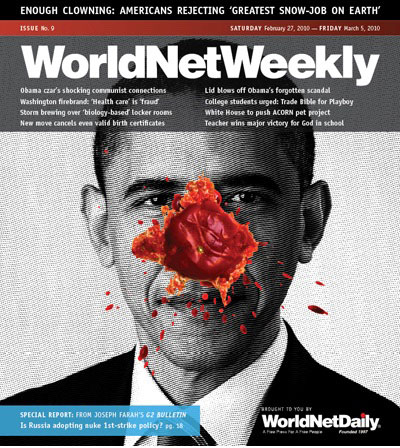 When you need to sell subscriptions, what better way to drive sales than generate a controversy. That's exactly what WND has done.
The cover of the current issue of WorldNetWeekly is of a black-and-white portrait of President Obama that has been hit by a bright red tomato. Or, if you're not looking too closely, a bullet hole.
Lest you miss the intentionally provocative -- and sales-generating -- intent of the cover, one need go no further than WND's story on the controversy it created. It leads by gushing over how "provocative" and "eye-catching" WorldNetWeekly is and "just what a reading revolution it really is." It goes on to insist that the cover is merely "symbiotic satire" that "was lost on those who projected criminal intents onto the tomato," adding:
Featuring President Obama with a tomato splattered squarely on his nose, the image signifies not just a thorough booing of him and his policies but is positioned to liken him to common clown costuming. That latter point is reflected in the issue's headline, "Enough clowning: Americans rejecting 'greatest snow-job on Earth.'"

Of course, WND goes far beyond a "thorough booing" of Obama -- it lies about him and smears him as a Nazi and the Antichrist.
WND hates Obama, but they also want to cash in on it as well -- hence, the subscription links littered throughout the article.
Tossing a Photoshopped tomato at Obama is merely childish petulance on WND's part. That it looks vaguely like a bullet hole is merely icing on the cake.
Posted by Terry K. at 12:16 AM EST