Tim Graham, Jerk
Topic: Media Research Center
Tim Graham has apparently decided to emulate his Media Research Center boss, Brent Bozell, when it comes to acting like a jerk in public.
Graham spent his time before the vice presidential debate issuing personal attacks against the debate moderator, Martha Raddatz. First, Graham tweeted, "Questions lib media never asks: 'Will woman who won't take husband's surname have a feminist tilt?'"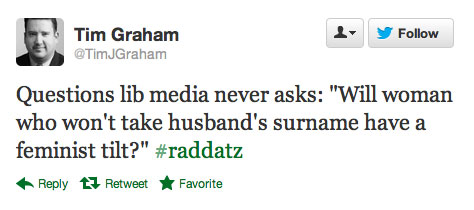 That was followed by
another tweet
: "Or: will woman who marries three times have a hard time deciding which debate questions to ask?"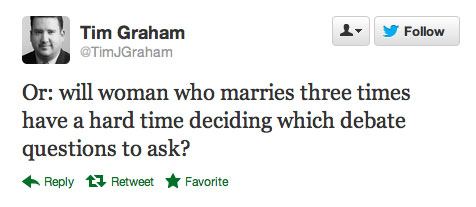 Graham's boss has a notable history of issuing personal attacks, from
off-air yelling
at fellow panelists when he loses an on-air argument to caling President Obama a "
skinny ghetto crackhead
."
Is it really a good thing that Graham is aspiring to become just as much of a jerkwad as Bozell? So much for the MRC's
calls for civility
.
Posted by Terry K. at 3:02 AM EDT
Updated: Friday, October 12, 2012 8:20 AM EDT