On Aug. 9, Newsmax ran a rare editorial endorsement of a candidate -- Bill McCollum, running in the Republican primary for Florida governor against Rick Scott. The race, the editorial noted, "has become one of the nastiest fights in modern political history," but "It is a battle that McCollum deserves to win."
Unmentioned in the editorial was the fact that Newsmax had contributed to the nastiness by slanting its coverage of the race in favor of McCollum and against Scott.
Also unmentioned: Newsmax CEO Christopher Ruddy was doing more than endorsing McCollum -- he held a fundraiser for McCollum's campaign.
ConWebWatch has obtained a copy of the invitation to the June fundraiser, which was sent out on the mailing list of Dick Morris, who hosted the fundraiser with Ruddy: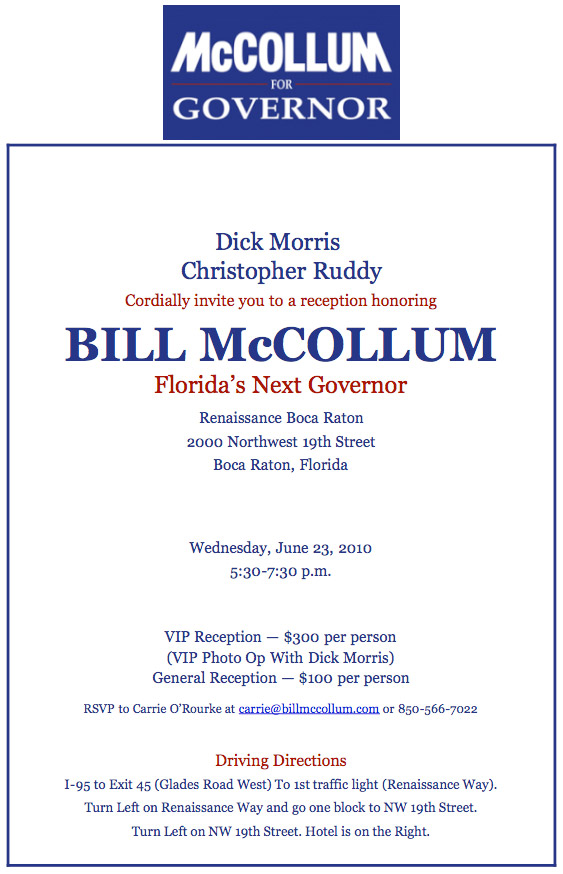 Ruddy has yet to disclose his participation in this fundraiser -- or any monetary donation to McCollum that presumably accompanied his hosting it -- to his readers.
This is not the first time Newsmax has skewed news coverage to a candidate Ruddy has financially supported. As ConWebWatch
documented
, in 2003, Newsmax published an article laudatory of then-Rep. Mark Foley (R-FL) -- who a few years later would be caught up in a sex scandal and forced to give up his seat -- two days after Ruddy donated $1,000 to Foley's campaign, going on to promote Foley in several subsequent articles.
(Ruddy later disclosed that he was donating to Joe Lieberman's 2006 Connecticut Senate re-election campaign, though he never disclosed how much -- according to the blog My Left Nutmeg, more than $12,000. Lieberman went on to be featured in a 2007 cover story for Newsmax's magazine.)
Meanwhile, one didn't need such disclosure or even an editorial endorsement, to know whose side Newsmax was on. It had been praising McCollum and bashing Scott for weeks before the editorial's appearance:
After the endorsement, Newsmax's bias continued:
For all of Newsmax's biased coverage and Ruddy and Morris' undisclosed financial aid, however, McCollum lost the Aug. 24 election to Scott. This prompted an Aug. 26 column by Ruddy that was a letter to his readers:
I want to drop a note to you all about the recent Florida election.

I was honored to join Bill McCollum on election night in Orlando. Bill did not win, but in my book, he did not lose, either.

When you fight a good fight against a candidate with an overwhelming bank account, and you don't have the establishment media in your corner, it is an uphill battle.

As Theodore Roosevelt once remarked, the credit always goes to the "man in the arena" fighting for what he believes in against the odds.

Bill was that man in the arena.

As you know, Newsmax rarely endorses candidates in primary elections. However, I found Bill to be a man of remarkable integrity who has a tremendous record of service to his country.

I am glad Newsmax supported him and befriended him during this campaign.

I also am glad I befriended Bill's supporters and his campaign team, who were excellent, extremely responsive, and hard working.
Ruddy did much more than "join Bill McCollum on election night in Orlando," and Newsmax did much more than "support" McCollum. But Ruddy does not seem interested in telling his readers about it.
In the wake of his failed bid for Newsweek magazine, Ruddy has announced expansion plans for Newsmax, adding approximately 20 editorial employees in the next year and a half, mostly in its New York and Washington offices. But Ruddy seems to have forgotten about certain journalistic basics -- like disclosure and fairness. Without that, credibility is harmed.
If Ruddy consistently skews coverage in favor of candidates to whom he has donated without disclosing those donations, there's little reason to take Newsmax seriously as a news source.