CNS Reporter's Smear: 'Obama Basically Hates Columbus'
Topic: CNSNews.com
CNSNews.com reporter Penny Starr is a heavily biased reporter with a penchant for manufacturing controversies.
Starr proved her bias once again in a Oct. 8 tweet in which she declared, "Obama basically hates Columbus."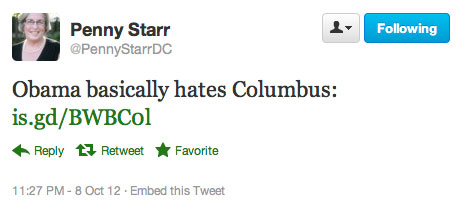 Starr was promoting her CNS
article
in which she notes that President Obama's Columbus Day declaration stated that Americans should ""reflect on the tragic burdens tribal communities bore" since Christopher Columbus' arrival in the New World.
How does acknowledging the indisuputable facts of history equal "basically hating Columbus"? Starr doesn't explain.
Starr's tweet does, however, expose that she wrote her article with malicious intent, not an attempt to inform.
Funny that the bias-hunters at CNS's parent, the Media Research Center, just can't seem to find the bias in its own "news" organization, let alone remedy it.
Posted by Terry K. at 10:17 AM EDT