'Dreams From My Real Father' Discredited; Will WND's Corsi Report?
Topic: WorldNetDaily
For the past several months, WorldNetDaily -- led by Jerome Corsi -- has been promoting Joel Gilbert's anti-Obama film "Dreams From My Real Father," which posits that Obama's father is Frank Marshall Davis, and Obama's mother posed nude for him in Hawaii. Like many other things Corsi has been involved with, that claim has been utterly discredited.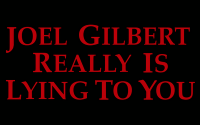 Loren Collins at the Barackryphal blog has utterly demolished Gilbert's claims in a seven-part series demonstrating Gilbert's falsehoods and history of mendacity. Perhaps most importantly, Collins shot down the claim that Ann Dunham posed for Davis by proving that photos that Gilbert claims are of Dunham were actually published in an erotica magazine when Dunham was 15 -- years before she and her family moved to Hawaii -- and are of a woman considerably older than 15.
Collins also made a videotaped debunking of the photo claim. As Collins explains, Gilbert apparently tried to suppress the video by filing a frivolous copyright claim against it that temporarily removed it from YouTube (despite Collins' usage of a clip from an ad for Gilbert's film clearly falling under fair use). Collins removed the offending section and reposted the video.
So Gilbert clearly knows about Collins' work to the extent that he tried to keep others from seeing it. But so far, Gilbert has not responded publicly to it. And you know what that means -- Corsi will ignore it as well.
After all, Corsi has done such a bang-up job of suppressing any criticism of his rapidly imploding birther conspiracy theories, there's no reason he won't put the same effort into ignoring how Gilbert's smear of Obama (and false and malicious slut-shaming of his mother) has been discredited.
This is just another reason why nobody believes WorldNetDaily.
Posted by Terry K. at 2:22 AM EDT