CNS Sneers That Obama Returning To Washington To Monitor Storm Is "Optics"
Topic: CNSNews.com
For part of today, the front page of CNSNews.com carried a sneering banner at the top of the page reading: "Optics: Obama, in Fla. to campaign, suddenly cancels, now returning to D.C. to storm-watch."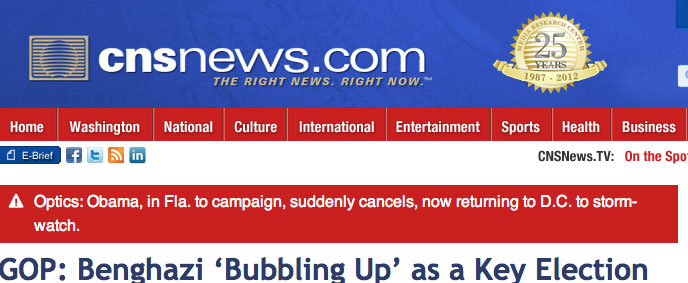 CNS made no mention of the "optics" of Mitt Romney trying to take political advantage of Hurricane Sandy by having his campaign volunteers using a Romney campaign bus to collect relief supplies.
CNS has long despised Obama and is shilling for Romney.
Posted by Terry K. at 2:23 PM EDT
Updated: Monday, October 29, 2012 2:24 PM EDT