MRC's Jean-Pierre-Bashing, Doocy-Fluffing Watch
Topic: Media Research Center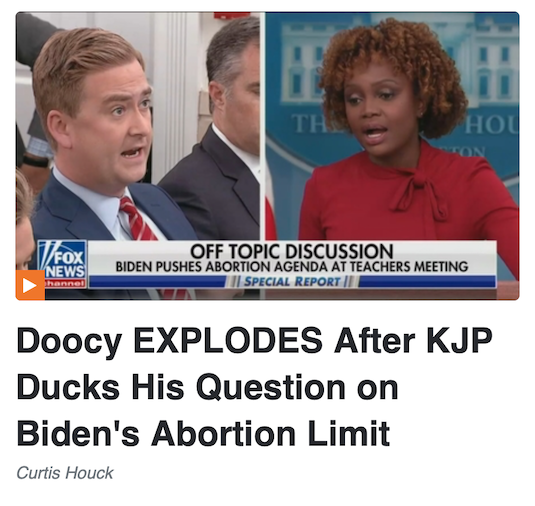 The Media Research Center's hatred for White House press secretary continues unabated. A Sept. 15 post by Tim Graham whined about fact-checkers again, parroting a Fox News report claiming that "nearly every major fact-checker has completely ignored White House press secretary Karine Jean-Pierre since she took over for Jen Psaki. Fox has energetically pointed out KJP preposterously claimed no one walks across the Southern border, which no 'fact checker' touched." Kevin Tober pushed the malicious incompetent-diversity-hire angle in a Sept. 20 post:
On Tuesday night's edition of Alex Wagner Tonight on MSNBC, host Alex Wagner brought on White House press secretary Karine Jean-Pierre for a wide-ranging interview on everything from the ongoing Biden border crisis to President Joe Biden's claim on 60 Minutes that the COVID-19 pandemic is over. Comments that sent his own public health advisors into a frenzied clean-up afterward. Yet Jean-Pierre's incoherence when answering questions no matter how simple isn't just displayed during press briefings when pressed by the White House press corps, she even struggles when given softballs by friendly press.

In light of the controversy of Governors Ron DeSantis (R-FL) and Greg Abbott (R-TX) sending migrants to liberal states, Wagner asked about a report that "DHS officials have presented the White House with some options including flying migrants to the country's northern border with Canada to alleviate overcrowding on the U.S. Mexico border." Wagner then asked, "how that is meaningfully different than what DeSantis and Abbott are doing?"

Proving how she is nothing but a diversity hire, Jean-Pierre mumbled and fumbled her way through that very simple question without actually answering it in any comprehensible way:

[...]

Wagner never corrected her for her many false statements like claiming the border "is not open" and that Republicans are playing games on immigration. Neither of which is true.
Toher offered no proof to support either claim. Meanwhile, chief Karine-hater Curtis Houck was on the attack again in his writeup of the Sept. 20 briefing:
The inept White House Press Secretary Karine Jean-Pierre continued her penchant Tuesday for stumbling her way through press briefings with the latest topic being Governor Ron DeSantis (R-FL) flying illegal immigrants to Martha's Vineyard and Governors Greg Abbott (R-TX) and Doug Ducey (R-AZ) bussing them to liberal cities.

And, for once, NPR put your tax dollars to work in a positive manner as correspondent Franco Ordoñez grilled Jean-Pierre on the Biden administration's refusal to work these governors to secure the border.
For the Sept. 23 briefiing, Houck cheered his mancrush Peter Doocy being nastier than usual to Jean-Pierre (which he baselessly insisted was "rare" of him):
Friday's White House press briefing sent viewers into the weekend with a bang as Fox's Peter Doocy showed a rare moment of anger as White House Press Secretary Karine Jean-Pierre blatantly and repeatedly refused to answer his question as to whether President Biden believes in any limit to abortion.

Doocy began as he always does with a basic, rather innocuous question. This time, it touched on her opening remarks lambasting the 15-week abortion ban proposed by Senator Lindsey Graham (R-SC): "Following up on your topper, does President Biden favor any limits on abortion?"

Jean-Pierre said "[w]e've been very, very clear" in "talking specifically about" Graham's plan, but Doocy interjected to push her along: "And your position on his plan is clear. 15 weeks is unacceptable."

She then continued: "I was speaking to — directly to what Republicans are trying to do. They are calling — they are calling — they are calling for a national ban, which takes us backwards."

Continuing to stammer her way along, Doocy fact-checked her by noting Graham's proposal is only for 15 weeks and not an outright ban.

Jean-Pierre continued to lie, claiming "it's a national ban, which will take us backwards and will put at risk the health of women" and would be the first step by "extreme Republican officials" in ending "privacy" and "contraception" and attacking "marriage" (as in gay and interracial marriages).

"I'm not going to get into specifics here. I'm just going to lay out what — what they have said that they're going to do," she hilariously added.

Doocy seized on that nonsense: "Why not get into specifics? The Republicans are saying we don't want abortion after 15 weeks. Why can't you say how many weeks the President thinks the limit is?"

Jean-Pierre again diverted by invoking House Minority Leader Kevin McCarthy (R-CA) and the House GOP's Commitment to America, but Doocy wasn't having it, saying he's "not asking about Kevin McCarthy" and instead about "Joe Biden and his position on abortion."

After being asked one last time "how many weeks," Jean-Pierre filibustered with a meandering answer about Republicans "trying to take away the rights and freedoms of Americans." Doocy tried to push back, but Jean-Pierre moved on to Bloomberg Government's Courtney Rozen.

Doocy almost always complies when Jean-Pierre (or Jen Psaki) would move on, but not on this day as he exclaimed, "[y]ou did not answer my question"(click "expand"):
Only in Houck's rightpwing bizarro world could a biased reporter like Doocy be seen as asking almost exclusively "innocuous question."
Posted by Terry K. at 7:54 PM EDT