CNS Rushes To Claim Queen As A Christian After Her Death
Topic: CNSNews.com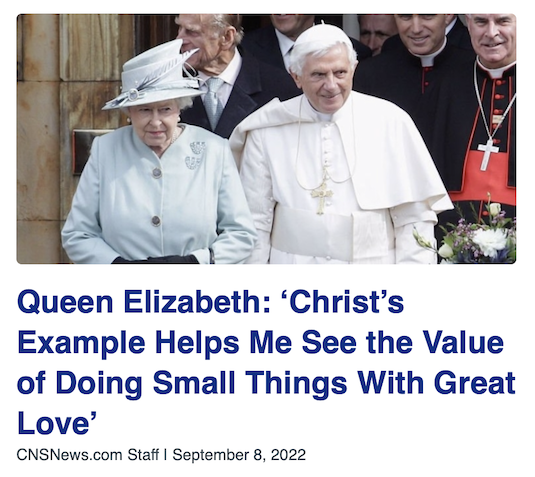 Following the death of Queen Elizabeth the Media Research Center rushed to claim her as a Christian -- but was weirdly reluctant to put any CNS employee on the record doing that. An anonymously writtten Sept. 8 article declared:
Queen Elizabeth, who delivered a Christmas message to the British people every year, said in her last Christmas message this past December (eight months after her husband, Prince Philip, had died) that the teachings of Jesus Christ had been "the bedrock of my faith."

"And for me and my family, even with one familiar laugh missing this year, there will be joy in Christmas, as we have the chance to reminisce, and see anew the wonder of the festive season through the eyes of our young children, of whom we were delighted to welcome four more this year," Queen Elizabeth said in that address.
Another anonymously written article that day did much the same thing:
Queen Elizabeth delivered a Christmas address in 2016 in which she talked about some of the things she had learned from the examples of St. Teresa of Calcutta and Jesus Christ.

"I often draw strength," said the Queen, "from meeting ordinary people doing extraordinary things: volunteers, carers, community organisers and good neighbours; unsung heroes whose quiet dedication makes them special.
A Sept. 9 article -- surprisingly carrying the byline of Patrick Goodenough -- took a shot at newly declared King Charles for not being Christian-y enough by dredging up what he even admitted was a statement from "several decades ago":
When Britain's new monarch is formally enthroned, among the titles he will assume, in line with tradition dating back to the 16th century, will be that of "Defender of The Faith" – "The Faith" referring to the doctrine of the Church of England (Anglican Church).

Prince Charles automatically became King Charles III at the moment Queen Elizabeth died, but his official accession and formal coronation await.

Several decades ago, the then-Prince of Wales generated debate over the question of adopting a more inclusive title – "Defender of Faith" – reflecting a more ecumenical view of the world, and an interest in other denominations and religions.

Many Christians and traditionalists were appalled at the idea of a change, which would have required parliament to amend longstanding legislation enacted in 1953.

But in a 2015 interview, the heir to the throne indicated he would not seek that amendment, and suggested his views on the matter had been misinterpreted.
You'd think that the more-Catholic-than-the-pope guys who run CNS would be more supportive of Charles on this point, given that the Anglican Church was created by King Henry VIII because the Catholic Church wouldn't let him divorce Catherine of Aragon.
Goodenough followed that with another fluffy article stating how "As many around the world mark the death of Queen Elizabeth, Sunday's 21st anniversary of 9/11 provided a reminder of her response to the terrorist attack on America, including a break in centuries-old tradition and words of condolence that touched many on both sides of the Atlantic" by a post-9/11 changing of the guard ceremony at Buckingham Palace "featured a playing of The Star-Spangled Banner."
A Sept. 12 article by Goodenough expressed relief that Charles stuck to the original "defender of the faith" pledge while grousing that he still endorsed interfaith dialogue:
Britain's King Charles III was formally proclaimed king and "Defender of The Faith" in a weekend ceremony, and in his first speech affirmed his "particular relationship and responsibility towards the Church of England," even as he pledged to serve the citizens of Britain and its realms, "whatever may be your background or beliefs."

[...]

A longstanding advocate of interfaith dialogue, Charles as heir to the throne sparked debate when he suggested that "Defender of Faith" would be a more inclusive and all-embracing title, although in an interview seven years ago he sought to lay the controversy to rest. "The Faith" refers to the Church of England, the country's state or established church.
Needless to say, CNS still found a way to inject its right-wing anti-biden bias into the queen's death. A Sept. 19 article by Craig Bannister chortled that "President Joe Biden and First Lady Jill had to wait to take their seats at Queen Elizabeth's funeral Monday – because they didn't arrive on time."
Posted by Terry K. at 3:31 PM EDT