Fake News: WND Publishes Bogus Story About Pelosi Buying House In Florida
Topic: WorldNetDaily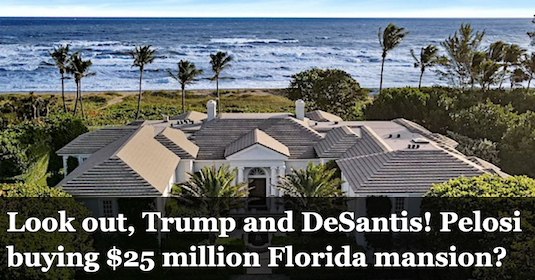 Bob Unruh wrote in a Nov. 24 WorlddNetDaily "news" article:
California has serious water problems, housing costs that are simply a joke for many families, a reputation for life-ending forest fires, a social agenda that leads the nation in attacks on traditional marriage and people of faith, and more.

And don't forget the possibility of the "Big One," an earthquake that films portray as turning the San Andreas fault into another Grand Canyon and leveling cities.

No wonder House Speaker Nancy Pelosi apparently wants to leave, even though she's done much in her decades in Congress to make the state what it is.

After all, she's represented in Congress one of the state's prominent districts since the 1980s – before the fall of the Berlin Wall.

And she undoubtedly can afford it, because even though her congressional salary has been what most families would consider great, it doesn't nearly add up to the hundreds of millions of dollars in assets she, along with her businessman husband, have reported.

So now there are reports that she's purchased a $25 million beach estate in Hobe Sound, Florida, about half an hour away from President Trump's estate in Palm Beach.

The proximity of the property to the ocean reveals clearly that she has no concern for rising sea levels caused by global warming – or climate change as it's now known.

[...]

The property she reportedly has acquired recently was listed as sale "pending" rather than available.
Unruh's source for his "reports" is just a single one, a far-right website notorious for the misinfiormation it publishes.
Unfortunately for Unruh, the story is not true. As conservative site The Bulwark documented:
So random people on Twitter said that Pelosi had already bought a $25 million dollar house. Pelosi's office called the story "completely false." And the Washington Examiner could only say that the story "may just be too juicy to be true." After all, can any of us truly know anything?

[...]

The good news is that someone was willing to do actual journalism.
The bad news is that the someone was Realtor.com, where a writer named Claudine Zap—who does not appear to be an "investigative reporter" at Fox News—actually made some calls, got to the truth, and wrote a responsible piece headlined "No, Nancy Pelosi Did Not Buy a $25M Mansion in Jupiter Island, FL."
That's right -- a real estate site did the journalistic legwork Unruh -- an employee of a "news" operation -- couldn't be bothered to do. The Bulwark went on to write of the right-wing outlets thatmindlessly pounced on this story:
As is usually the case, after these fringe outlets write vague, unsourced stories, slightly more respectable conservative sites aggregated them under the guise of "according to" various "reports" without noting how disreputable the sources of the reports are, or making any attempt to confirm them. These aggregations exist solely to farm clicks.
A disreputable fringe click farm, you say? That's pretty much what WND has become these days. Needless to say, Unruh's story remains live and uncorrected.
Posted by Terry K. at 5:27 PM EST
Updated: Friday, January 14, 2022 6:04 PM EST