Newsmax Touts Lindell's Bogus Election Claims ... To Keep His Ads?
Topic: Newsmax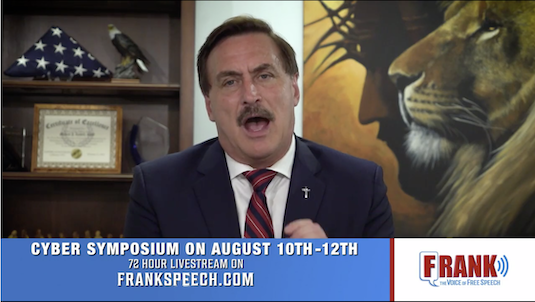 Newsmax gave the controversy over MyPillow guy Mike Lindell pulling his ads from Fox News because it refused to run ads for his (bogus) election "cyber symposium" ... perhaps because it wanted to keep Lindell's ads on Newsmax TV.
A July 30 article credited only to "Newsmax Wires" hyped the controversy, then added: "Newsmax is planning to the air the Lindell ad on its network." That included a further statement: "Newsmax, in a statement, noted, 'We do not endorse any political or issue ad that appears on our network. We do believe, however, that all Americans have a First Amendment right to free speech.'"
The next day, an article by Sandy Fitzgerald touted how Newsmax hosts Diamond and Silk "slammed Fox News for refusing to run advertising for My Pillow CEO Mike Lindell's upcoming cyber symposium on election fraud, calling the decision a denial of Lindell's freedom of speech. Fitzgerald went on to note that "Newsmax is airing the Lindell ad," adding a minor dig at Fox by pointed out that "The duo came to Newsmax for their show "Diamond and Silk Crystal Clear" last August after leaving Fox Nation." Fitzgerald didn't mention that Diamond and Silk lost their Fox Nation gig for spreading false coronavirus conspiracy theories.
Perhaps unsurprisingly, Newsmax invited Lindell on one of its TV shows to to talk about the Fox News controversy, as summarized in an Aug. 5 article by Bill Hoffmann, who helpfully recited the ad -- but adding a disclaimer to keep it out of further legal trouble:
In the one-minute ad Fox refused to air, Lindell looks into the camera and says: "Hi, I'm Mike Lindell and I'm coming to you with the most important commercial that I've ever done. All of you know what MyPillow and myself have gone through in the last five months in my efforts to bring the truth forward.

"Well it's all come down to this. I'm having a cybersymposium on Aug. 10, 11 and 12. This historical event will be live-streamed 72 hours straight on my new platform, FrankSpeech.com.''

Lindell then makes a pitch for MyPillow products, which he says are available at discount prices through FrankSpeech.com.

Newsmax, along with several other networks, has accepted the ad.

The network said in a statement it does not endorse any advertisements that appear on the network and editorially has accepted the 2020 election results as "legal and final."
Newsmax also let Lindell hype his symposium, which he claimd "will feature 65 forensic cyber experts who will challenge the official results of the presidential election" and " will include a re-creation of election night vote counting 'in real time' so viewers can better understand what happened." A clip of the ad Fox wouldn't run (but Newsmax will) was embedded in the story.
Speaking of legal trouble, an Aug. 10 article by Marisa Herman on Dominion Voting Systems' $1.6 billion lawsuit against Newsmax for spreading false claims about the company also included a Lindell disclaimer:
The Dominion lawsuit was filed on the opening day of "Mike Lindell's Cyber Symposium" in South Dakota, a three-day event in which he and panels of experts, government officials and other political figures were to discuss the MyPillow CEO's claims of election fraud.
Newsmax — as well as other outlets — aired paid television advertisements for the symposium. Fox News declined to air the advertisement citing pending litigation.
Herman and Logan Ratick gave Lindell's symposium sympathetic treatment in an Aug. 11 article:
Halfway through Mike Lindell's 72-hour cyber symposium concerning claims of 2020 election fraud, roughly 90,000 viewers are tuning online for his revelations.

The MyPillow CEO has promised the "proof" that will show that the 2020 election was stolen from Donald Trump, a sentiment that has been echoed by the former president himself.

[...]

Lindell has been promoting the three-day cyber event as the forum that will ultimately demonstrate the 2020 election was hacked.

For months, Lindell has claimed that Chinese government hackers changed votes in every state.
Herman and Ratick did have to conceded a couple nods to reality, admitting that "Election infrastructure and Trump administration cyber security officials all have deemed the 2020 election the 'most secure in American history'" and that "All 50 states have certified the election as legal and final, a conclusion that was sealed by the Electoral College and Congress."
But when the symposium turned out to be a fraudulent bust, Newsmax didn't do a story on that. It did, however, publish an Aug. 12 article by Jeffrey Rodack uncritically repeating Lindell's claim that he had been "attacked" at his hotel after the symposium (Lindell later admitted the alleged assailant was a fan who "aggressively poked" him in trying to get a selfie). Rodack also wrote that Lindell "promised the 'proof' that will show that the 2020 election was stolen from Trump, a sentiment that has been echoed by the former president himself" -- but didn't tell readers none of that proof ever surfaced.
Newsmax's kid-gloves handling of Lindell appears to have paid off. Not only are there still MyPillow ads on Newsmax TV, he returned to Newsmax to tout his new social media platform, as summarized in an Aug. 31 article by Jack Gournell:
Fox News might have rejected advertising for Mike Lindell's new social media platform, FrankSpeech.com, but he said several others, including Newsmax and two national broadcast networks, did accept it, which just shows Fox wants to censor his platform, he told Newsmax.

"Where does it end with the censorship?" Lindell said Tuesday on "The Chris Salcedo Show." "We have [Twitter CEO] Jack Dorsey and [Facebook CEO] Mark Zuckerberg and what those guys have done in Google. ... These guys have exposed themselves."
Gournell didn't mention that Fox News rejected the ad for Lindell's symposium, not his social-media platform. He didn't mention the symposium at all, let alone that it was a major bust that made Lindell look terrible.
Like the rest of Newsmax, Gournell clearly knows on what side is bread is buttered.
Posted by Terry K. at 6:32 PM EDT