Fake News: WND Touts False Story Of Election Database Deletion
Topic: WorldNetDaily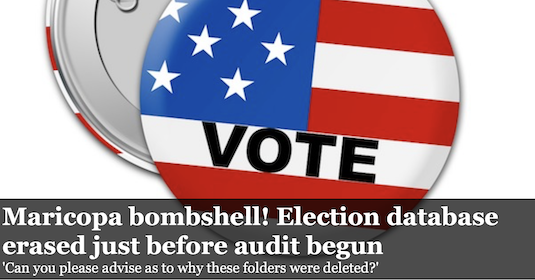 Bob Unruh breathlessly wrote in a May 13 WorlNetDaily article under the headline "Maricopa bombshell!":
A letter from the president of the Arizona state Senate, which is conducting an audit of the 2020 presidential election results in Maricopa County, has a bombshell: County officials apparently erased an election database from a computer just before turning it over, under subpoena, for the audit.

"We have recently discovered that the entire 'Database' directory from the D drive of the machine 'EMSPrimary' has been deleted," the letter from Senate President Karen Fann to the Maricopa Board of Supervisors, and its chairman, Jack Sellers, notes.

This removes election related details that appear to have been covered by the subpoena. In addition, the main database for the Election Management System (EMS) Software, 'Results Tally and Reporting,' is not located anywhere on the EMSPrimary machine, even though all of the EMS Clients reference that machine as the location of the database," the letter says.

"This suggests that the main database for all election related data for the November 2020 General Election has been removed. Can you please advise as to why these folders were deleted, and whether there are any backups that may contain the deleted folders?"
None of that is true. As fact-checkers have pointed out, the Board of Supervisors denied any databases were delated, and indeed they never were -- a screw-up on the audit investigators' part simply hid them:
Snopes obtained a May 17 technical memo, prepared by the Maricopa County Elections Department in response to Fann's letter and other speculation. In it, the department explained that, roughly speaking, those who received the server in question, on behalf of the state senate investigators, appear to have erred when using software to reconstruct those directories.

This in turn created the mistaken impression that the underlying databases and files had been deleted, when in fact they were merely inaccessible because of those errors. Backups of the original server still contained the databases and files in question, according to the Maricopa County Elections Department.

[...]

On May 18, after this fact check was originally published, one of the investigators tasked by the Senate with conducting the audit admitted that he had access to all the databases in question. At a special hearing on the audit, Ben Cotton, founder of CyFIR, told Republican state senators "I have access to that data," and "I have the information I need from the recovery efforts of the data."
As of this writing, WND has not corrected the article's false information -- suggesting that WND no longer cares about facts, though it sorta did for a time earlier this year.
Posted by Terry K. at 1:27 PM EDT