WND Promotes Tucker Carlson's COVID Vaccine Misinformation
Topic: WorldNetDaily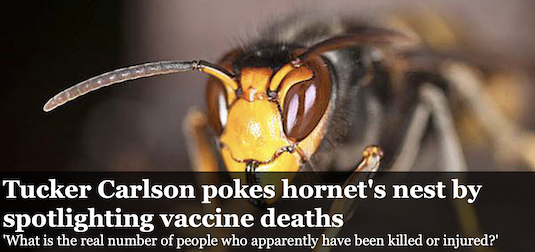 WorldNetDaily just can't stop pushing bogus claims about the coronavirus pandemic and vaccines as "news" when it ought to be reporting facts to its readers. This happened again in a May 6 article by Art Moore:
Fox News host Tucker Carlson prompted a sharp reaction from critics Wednesday night after addressing the issue of how many people have died after receiving a COVID-19 vaccine.

Carlson explained he is "completely in favor of vulnerable people taking vaccines" (The CDC profile is a person older than 70 with an average of 2.6 "comorbidities," such as diabetes and heart disease). But he argued that the vast majority of the population, with a survival rate of more than 99%, should have as much information as possible to make a risk assessment.

[...]

Between late December 2020 and April 23, a total of 3,362 people were reported to have died after receiving COVID-19 vaccines in the U.S., an average of 30 people every day, according to the federal Vaccine Adverse Events Reporting System, or VAERS.

VAERS is managed by the CDC and the FDA, Carlson noted, and "has received a lot of criticism over the years, some of it founded."
It's not unti lthe eighth paragraph that Moore finally gets around to mentioning that an actual doctor (which Carlson and Moore are not) pointed out that Carlson is wrong and that a fact-checker also discredited Carlson's claim -- adverse effects reported to VAERS do not constitute an established cause-and-effect, and that no death, let alone 3,362, has been found to be directly attributable to the vaccine. But Moore wants you to believe Carlson, not the experts:
However, Carlson pointed out in his segment that some critics have argued that VAERS undercounts vaccine injuries.

He cited a report submitted to the Department of Health and Human Services in 2010 concluding that "fewer than 1% of vaccine adverse events are reported" by the VAERS system.

"So what is the real number of people who apparently have been killed or injured by the vaccine?" Carlson asked. "Well, we don't know that number. Nobody does, and we're not going to speculate about it.

"But it's clear that what is happening now, for whatever reason, is not even close to normal. It's not even close to what we've seen in previous years with previous vaccines," he said.
Moore then called on Andrew Bostom further attacking thte VAERS system. But we've caught him falsely and maliciously blaming a measles oubreak on the entire Islam religion, so maybe his word shouldn't be trusted.
Moore then took then-candidate Kamala Harris out of context in trying to bolster Carlson's argument that getting the COVID vaccine should be a personal choice:
Last September, during the presidential campaign, a CNN reporter asked Kamala Harris whether she would be willing to take the coronavirus vaccine once it became available.

"Well, I think that's going to be an issue for all of us," she replied. "I will say that I would not trust Donald Trump."

A month later, at the vice presidential debate, Harris was more emphatic.

"If Donald Trump tells us we should take" the vaccine, she declared, "I'm not going to take it."
Actually, Harris went on to say that "If Dr. Fauci, the doctors, tell us that we should take it, I'll be the first in line to take it" -- thus making her argument that Trump could not be trusted given that he was dangling a vaccine as a ploy to get re-elected, not an argument about individual choice.
Such dishonest reporting -- not Big Tech conspiracies -- is the reason nobody trusts WND.
Posted by Terry K. at 3:33 PM EDT