CNS Won't Fact-Check Trump On His Mail-In Vote Fearmongering
Topic: CNSNews.com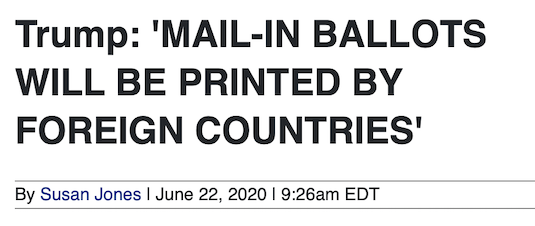 CNSNews.com fell into pro-Trump stenography mode once again in a June 22 article by Susan Jones:
President Trump is an outspoken critic of vote-by-mail, and the topic merited all caps as he tweeted Monday morning:

RIGGED 2020 ELECTION: MILLIONS OF MAIL-IN BALLOTS WILL BE PRINTED BY FOREIGN COUNTRIES, AND OTHERS. IT WILL BE THE SCANDAL OF OUR TIMES!

Trump was echoing Attorney General William Barr, who told "Sunday Morning Futures" he worries about mail-in ballots opening "the floodgates of potential fraud."
Because CNS doesn't fact-check anything Trump says -- in this case, Jones merely adds a statment from a critic that Trump is trying to suppress the vote to ensure a win and that voting by mail is already permitted in many states -- it was left to an actual news operation to point out why Trump is wrong about mail-in ballots coming from "foreign countries":
Even a fifth-grade class president, though, can probably identify at least one problem with this theory.

The first is precisely that votes are necessarily correlated to voters. Submitting millions of ballots in general means identifying millions of active voters on whose behalf the ballots should be sent. Trump has repeatedly lifted up a Pew Center on the States report from 2012 delineating bloat in America's voter rolls. People routinely move or die without updating their status with local registrars of voters, meaning that there are theoretical voters who are either living out of state or not living at all. The 2012 report identified 1.8 million dead voters alone.

The irony, of course, is that the focus on these inactive voters has meant that counties have been more active about culling expired registrations. Los Angeles County was sued by the pro-Trump activist group Judicial Watch, leading it to purge 1.5 million presumably inactive voters. That's 1.5 million fewer voters for a theoretical foreign power to exploit.

Mind you, a foreign power that obtained a full voter file would not necessarily know any better than the county itself which voters were inactive. So you would get a ton of submitted ballots for voters who were themselves already voting — especially given that turnout peaks during a presidential election year. Meaning a ton of duplicate ballots, quickly exposing the attempted fraud.

None of this, though, is the main reason that Trump's theoretical fraud would not work. The main reason the fraud wouldn't work is that casting a ballot isn't as easy as getting one and turning it in. County governments then validate the ballots against existing information — usually matching a signature by hand — before considering it valid.

In other words, not only would this foreign government need to identify nonvoters or get lucky by not duplicating ballots; it would also have to somehow ensure that the ballots it was submitting didn't include obviously forged signatures.

So if the foreign power obtained those signatures, matched them to voters and mailed them back in, the signatures would then have to be obviously not forged even if they were exact replicas of the originals on file (which, of course, would probably raise eyebrows by itself). For example, they would need to not be obviously printed on the ballot, as opposed to signed by hand. This isn't as hard to pull off as it might seem, Siegel suggested, but it is still an example of a bar that needs to be surpassed.

Only then do we hit all of the other problems: that the voter is still valid, that he or she has not already voted and so on.
Jones also failed to note that numerous Trump officials -- and Trump himself -- have already voted by mail.
CNS has previously gotten angry that Trump was fact-checked at all on the issue of mail-in voting. After Twitter tagged an earlier Trump tweet falsely attacking mail-in voting with a link to facts on the issue, Craig Bannister huffed in a May 27 article that Twitter has begun posting rebuttals to tweets by President Donald Trump under the direction of a 'Head of Site Integrity' who has, himself, used the social media giant to call Trump officials 'actual Nazis' and 'Joseph Goebbels,' in a move one columnist deems 'a shocking step.'" He huffed further that the rebuttals came from "anti-Trump liberal media like CNN and The Washington Post," but he didn't dispute the accuacy of the rebuttal.
A day later, Bannister touted how Trump issued new tweets "promising that allowing mail-in ballots would result in substantial voter fraud and a rigged election," claiming that the earlier tweet had "link[ed] to liberal media defending mail-in voting" but, again, failing to dispute the factual accuracy of the defense.
UPDATE: CNS also uncritically quoted Attorney General William Barr floating this conspiracy theory with Fox Business host Maria Bartiromo offering no pushback. CNS didn't offer any either in this anonymously authored piece; it was in stenography mode.
Posted by Terry K. at 4:15 PM EDT
Updated: Sunday, July 26, 2020 11:26 AM EDT